50% reduction in cost & time of transportation of goods between Kolkata and Agartala and Aizwal with the development of Sittwe Port
This will promote promote trade connectivity and people to people ties between India and Myanmar and the wider region and will help boost economic development of NE states under 'Act East Policy' of the Government : Shri Sarbananda Sonowal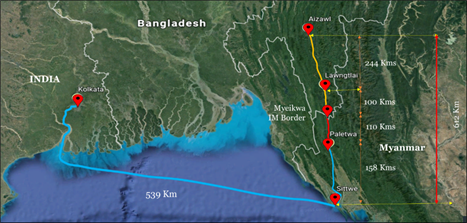 Union Minister for Ports, Shipping and Waterways and AYUSH Shri Sarbananda Sonowal and Deputy Prime Minister and Union Minister for Transport & Communications Admiral Tin Aung San, of the Republic of the Union of Myanmar jointly inaugurated the Sittwe Port in Rakhine State, Myanmar today. During this event they received the first Indian Cargo ship which was flagged off from Syama Prasad Mookerjee Port, Kolkata.
The operationalisation of Sittwe Port would enhance bilateral and regional trade as well as contribute to the local economy of Rakhine State of Myanmar. The greater connectivity provided by the Port will lead to employment opportunities and enhanced growth prospects in the region.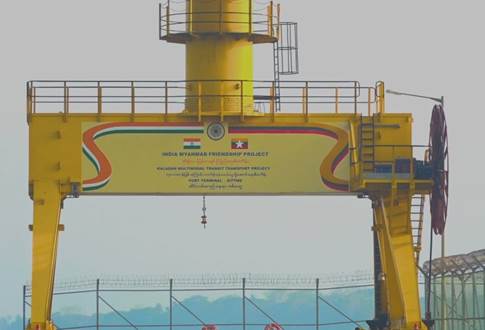 In his remarks at the inauguration ceremony, Union Minister for Ports, Shipping and Waterways highlighted the close historical, cultural and economic ties between India and Myanmar, particularly the Rakhine State of Myanmar. He reiterated India's longstanding commitment towards the development and prosperity of people of Myanmar through developmental initiatives such as the Sittwe Port.
This project was conceptualized to provide an alternative connectivity of Mizoram with Haldia / Kolkata / any Indian ports through Kaladan River in Myanmar. The project envisages highway / road transport from Mizoram to Paletwa (Myanmar), thereafter from Paletwa to Sittwe (Myanmar) by Inland Water Transport (IWT) and from Sittwe to any port in India by maritime shipping. The project comprises of following segments
Sittwe Port has been developed as a part of the Kaladan Multi-Modal Transit Transport Project (KMTTP) funded under grant in aid assistance from Government of India. Once fully operationalized the waterway and road components of KMTTP will link the East coast of India to the North-eastern states through the Sittwe port.