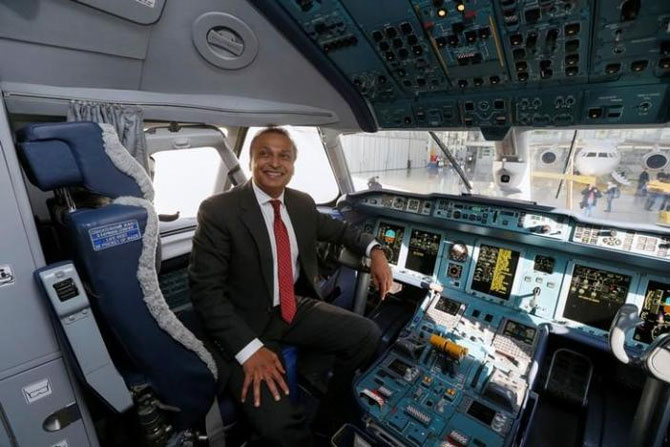 Reliance Defence and Engineering is also looking to export defence equipment to other countries besides exploring opportunities in India.
"While we are pursuing several opportunities in India on the naval side, we are also pursuing foreign military sales, which is effectively selling defence naval equipment to other governments, other countries outside India," Ambani told shareholders at the AGM of RInfra on Tuesday.
Courtesy:REUTERS
Reliance Defence, wholly owned subsidiary of RInfra, is looking at an integrated play in defence sector across all the verticals of army, navy and air-force, Ambani said, adding "the sector is new and it is taking baby steps in moving forward".
In January, RInfra took over the complete control of the management and control of Pipavav Defence & Offshore Engineering Co (PDOC) now called as Reliance Defence and Engineering.
"The Pipavav Shipyard will be the centre of excellence for everything to do with the naval operations. There are only two companies accepted by the government to build submarines, warships, to refit existing warships and existing submarines and we are one of them," he said.
Ambani also said experts from Germany, Russia, and France came and surveyed the Pipavav Shipyard and have certified it as a world class facility.
All of them have expressed their desire and actually signed MoUs with RInfra to come and work with it in India and transfer technology, train the employees and also provide capital, the chairman added.
The chairman also said the company is in the process of signing a contract with the Indian Coast Guard for the first defense order for 14 fast patrol vessels, estimated at a cost of about Rs 1,000 crore (Rs 10 billion).
"The navy has recently sent 3 of their ships to refit to Pipavav and there are bids there, and shortly, tenders to be opened for projects on the naval side worth of over Rs 10,000 crore (Rs 100 billion). So, we are deeply engaged and involved and committed to the defence sector," Ambani said.
Courtesy:PTI