Raasi Group plans to set up production of LI-Ion Cells – India's First Indigenous Technology based
Hon'ble Gover of Tamil Nadu Shri. Banwarilal Purohit inaugurated the Li-Ion Production Lines – India's First Indigenous Tech product. Mr. Kim Hyung Tae, Consul General of South Korea was the Guest of Honor.
In his welcome address, the Chairman of the group and a former Member of Parliament Mr. C Narasimhan said that he would like to work for the development of Tamil Nadu and sought guidance from the Governor for the 1gw plant, production of Li-Ion Cells, for the first time in the country and invited the Governor to inaugurate the factory which is expected to be started soon, at Hosur, Krishnagiri district of Tamil Nadu close to Bangalore; and, also sought the support of State government and the technology collaborators CSIR & CECRI.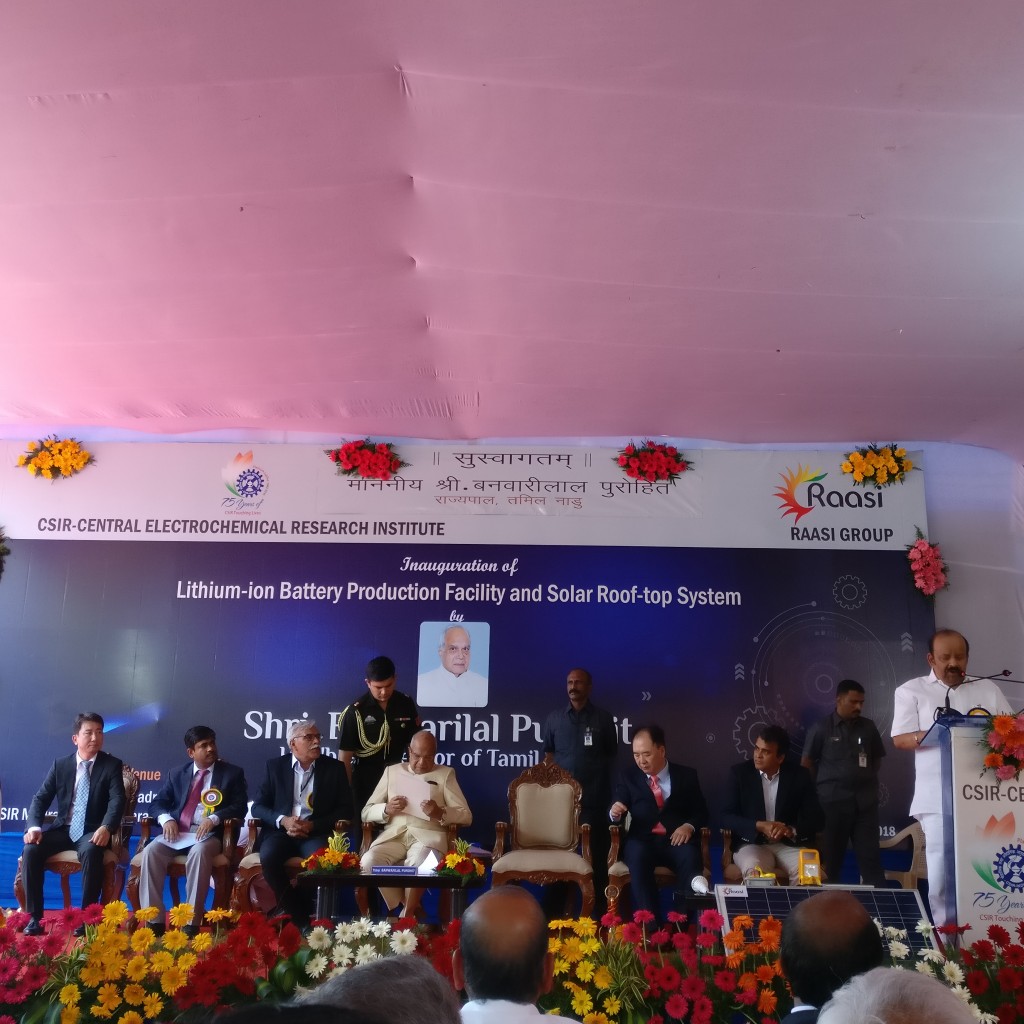 He further added that the companies like Hyundai Motors, other Korean cos, L&T, Hero, TVS expected to support. Under the leadership of our Governor of Tamil Nadu and the State Govt. support, this project would be supreme country and super country in the world. The life of the Li-Ion battery would be for 8 years – costing only Rs.30,000/- compared to the Lead acid batteries, which has only 6 months span of life – costing Rs.7000/-.
The technology development with the support of CSIR and the Dept. of Science & Technology helped them to sign an agreement last month with the Union minister for Science & Technology Dr Harsh Vardhan, along with Dr Vijayamohan K. Pillai, Director, CECRI, in Bengaluru on Saturday, at an outlay of Rs. 1,000 crore.
Governor on his inaugural speech said that make in India, Swadish movement is to encourage the manufacturing activity in the country and aspire to achieve electric vehicle production by2030 is certain. And the public private partnership would always bring in faith along with right kind of skills training and providing employment to the youth of India.
Li-Ion batteries have applications in Energy Storage System – from hearing aid to container sized batteries to power a cluster of villages, Electric Vehicles (2-wheeler, 3-wheeler, 4-wheeler and Bus), portable electronic sector, Grid Storage, Telecom and Telecommunication Towers, Medical Devices, Household and Office Power Back (UPS), Powering Robots in Processing Industry. Lithium-ion batteries can power any electrical application without the need of physical wires-means wireless.
Later Mr. B C Datta, Nissan said that the cell attributes 30% cost of eVehicles and indigenous production would surely bring down the cost of vehicles.