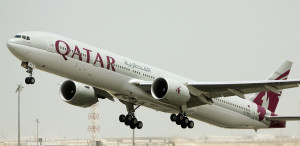 State-owned carrier of Qatar, Qatar Airways, will start a new domestic airline in India, its Chief Executive Officer Akbar Al Baker announced on Wednesday.
While he did not elaborate on the plans, Al Baker, responding to media queries at an event in Berlin, said the airline would partner with his government's investment arm, Qatar Investment Authority, and soon make an application to the Indian government for approval.
This would make it India's first fully owned foreign airline.
In the past, Qatar Airways has repeatedly expressed a desire to invest in IndiGo, the country's largest domestic airline.
Sources said Qatar Airways signed a letter of intent to purchase 60 Boeing 737 Max aircraft last October; some of these could be for the new airline in India.
IndiGo declined to comment on Al Baker's announcement.
"An informal discussion happened with the Qatar Airways authorities when the government requested them to consider starting an airline in India, but nothing has been finalised," a senior civil aviation ministry official said.
Last year, the government amended foreign direct investment norms, allowing full foreign investment in a local airline. However, the ownership in such a venture would be restricted at 49 per cent.
Rules also mandate an airline must operate at least 20 aircraft the country before being allowed to fly abroad.
Another ministry official said there was no plan to amend the substantial ownership and control norms in the near future. This could prove to be a hurdle for Al Baker's plans.
Qatar Airways, one of the Big 3 Gulf airlines, has been trying to expand its presence in India but its growth has been constrained because of limitation of traffic right. Rival Etihad Airways, based in Abu Dhabi, has gained and become the fastest growing foreign airline in India, following its investment in Jet Airways in 2013.
Over the past few years Qatar Airways has been stepping up its investments. It is purchasing 49 per cent stake in Italian carrier Meridiana. In December, Qatar Airways bought 10 per cent stake in Chile's LATAM Airlines.
"We are not surprised with Qatar Airways' announcement. However, launching the airline may not be easy and incumbent airlines will do everything possible to block it," said Kapil Kaul, CEO-South Asia of aviation consultancy firm CAPA.
Courtesy:Business Standard