The first multi-modal facility would be up and running before December 2018
After the implementation of the Goods and Services Tax (GST), seamless movement of trade could get another boost from multi-modal transportation.
The first multi-modal facility would be up and running before December 2018, Road Transport, Highways, and Shipping Minister Nitin Gadkari said on Wednesday.
The Rs 170-crore multi-modal terminal at Varanasi is likely to emerge as a major logistics gateway connecting North India to the eastern and north- eastern states, extending up to Bangladesh.
The ongoing construction of the Varanasi terminal, which will have waterway, rail and road connectivity, is part of the government's Rs 5,369 crore Jal Marg Vikas Project (JMVP).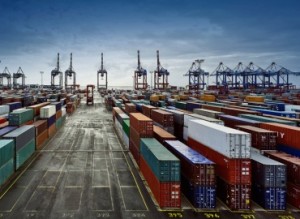 Multi-modal transportation is the way cargo is shipped from a factory to the final handing over to a customer. For example, the first mile in multi-modal transport begins when the cargo leaves the warehouse in a truck. After moving on a designated route, the truck reaches railway sidings, where the goods are unloaded and shifted into a railroad car. The goods can alternatively be delivered through cargo planes and line haul trucks. After reaching the destination,  the last-mile delivery of goods is done through smaller commercial vehicles. For export-import cargo, the goods are moved through the sea. With inland waterway and coastal shipping underway, goods meant for domestic consumption are also moved through smaller ships in rivers and coastal waters.
However, when it comes to road and rail freight, the key challenges faced are inadequate infrastructure, in terms of quality of roads and network connectivity and the check posts are a cause of delay. The issue of check posts has been addressed to a large extent by the roll-out of GST. The government claims that this has led to a reduction in transportation time. Municipal levies, however,  lead to some amount of delay in transit.
The logistics companies have pinned their hopes on multi-modal transportation for better business prospects. There are last mile connectivity issues especially for the air freight segment because of lack of hinterland connectivity in port freight that affects operations.
According to industry body Assocham, the annual logistics cost globally is estimated at about $3.5 trillion. India spends around 14.4 per cent of its gross domestic product on logistics and transportation as compared to less than 8 per cent by the other developing countries.
According to a World Bank report, India has one of the highest logistics cost among developing nations. Sharma feels that lack of complementary network development has been one of the major reasons for the lack of multi-modal transportation in India.  This is compounded by poor infrastructure, lack of skill/professionalism and under utilization of technology in the sector.
During the India Integrated Transport and Logistics Summit in May 2017, Gadkari had said the government was working towards formulating an integrated, multi modal logistics and transport policy that will reduce logistics costs in the country by nearly half, making Indian products more competitive.
The minister had said the integrated policy would include construction of 50 economic corridors and upgrading key feeder and inter corridor routes to improve the overall efficiency of freight movement. The plan also includes developing 35 multimodal logistics parks to serve as centres for freight aggregation and distribution, multimodal transportation, storage and warehousing and value added services.
The government also plans to construct 10 Inter-modal stations which will integrate various transportation modes like rail, road, mass rapid transit system, bus rapid transit (BRT), auto-rickshaw, taxi and private vehicles.
GoBolt, a logistics technology startup, said GST has given the industry an opportunity to work more efficiently i.e. without the hassle of encountering multiple state borders. With its implementation, the logistics sector is seen as a primary candidate to attract more foreign as well as domestic money, both in the form of equity as well as debt, Sumit Sharma, co-founder of GoBOLT said.
A large number of unorganized players in the road logistics sector has made it a fragmented industry.  "The sector is expected to consolidate and organized logistics players are going to be incentivized. A number of factors contribute to this, the introduction of GST, bigger and automated warehouses, better and standardized vehicles, better infrastructure, thrust on multi modal by the government will lead to better growth in the Indian logistics space," Raaja Kanwar, Managing Director, Apollo LogiSolutions said.
The key drivers would be an investment in infrastructure associated with ports, airports, and other logistics development plans. The investment would, however, be driven by domestic demand growth, and increasing trade, said an Indian Logistics Industry 2016 Outlook report by business consulting firm Frost & Sullivan.
courtesy:business standard