Pitching for making the country's 7,500-km long coastline an "engine of growth", Prime Minister NarendraModi today said India wants to mobilize Rs 1 lakh crore investment to enable port development and invited global community to invest.
Inaugurating the first Maritime India Summit (MIS) here, Modi said it is the "right time" to come and better through the "sea route".
"Our vision is to increase port capacity from 1,400 million tons to 3,000 million tons by 2025. We want to mobilize an investment of Rs 1 lakh crore in the port sector to enable this growth," the Prime Minister said after opening the MIS 2016.
India, according to Modi, plans to add five new ports to meet increasing demand of Exim trade, which is expected to rise in line with the fast-growing Indian economy. New ports are also being developed by several coastal states of India.
Making out a strong case, the Prime Minister said Indian shipping sector is ready for "a long haul" and called upon investors not to miss out on "the pleasant journey and great destination".
Modi added: "It is even better time to come through the sea route… Once you are here, I assure you that I will personally hold your hands to see that your berthing is safe, secure and satisfactory."
Paying tribute to Baba SahebBhim Rao Amdedkar on his 125th birth anniversary, Modi said the architect of India's Constitution is also the architect of the country's water and river navigation policy.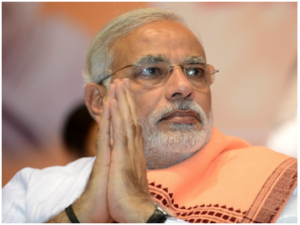 Elaborating on the government's plans for the sector, Modi referred to the shipping ministry showcasing some 250 projects with investment opportunity in the maritime sector.
These projects include various infrastructure development opportunities in 12 major ports, projects in eight maritime states and other agencies, of which over 100 projects have been identified under the ambitious Sagarmala program.
"With more than 14,000 kilometers of navigable inland waterways in the country, there is tremendous potential for development in this sector. My government is committed to integration in infrastructure. We are also committed to creating an enabling environment for investors and facilitating investments with an open mind," he added.
On the need for collaboration, the Prime Minister said it not just creates and facilitates economic activity, but connects countries and civilizations. He termed it as "the cleanest and cheapest carrier" of global trade.
"However, in this sector, no country can achieve the desired results in isolation. Nations have to collaborate to realize this potential and overcome challenges in this sector.
The objective of this summit is to provide a platform and a forum for such cooperation," he stressed.
"India has had a glorious maritime history. We are on the path of shaping an even better maritime future."