– Installed Breathalysers at Leading Pubs to Test Alcohol Levels and Offered Free Ola Prime Rides for Citizens to get Back Home Safe
– Initiative Launched in North Delhi, to beTaken toOtherParts of Delhi NCR Soon
Ola, India's most popular mobile app for transportation has associated with Delhi Police and a number of leading pubs in the city to campaign against the menace of drunken driving by offering people to take a Free and safe Ola Prime ride after a night out with friends. Through this initiative, Ola is aiming to educate and sensitize citizens on road safety thereby helping Delhi Police focus their scarce manpower resources towards constructive policing. As part of the 'Help Delhi Police' program, Ola has installed digital breathalysers at party hot spots and high footfall areas to help patrons ascertain if their alcohol in blood ratio is within the prescribed limits. Ola also encouraged people to take a cab ride instead of choosing to drive after they party. Thousands of people benefited from this drive and took a Free and safe ride home last week.
Shri MadhurVerma, Deputy Commissioner of Police, North District, Delhi hailed the initiative and said, "Safe roads are a priority for us and instances like drunken driving not only lead to loss of human life and property, but also bring tremendous pressure on the system to curb these issues. I would like to congratulate Ola for extending its support to the Delhi Police through their unique campaign to discourage drunken driving by installation of breathalysers at pubs and party hotspots in the city as well as offering safe rides to the citizens for free. While we are doing a lot from our end to curb drunken driving in Delhi; initiatives like these will go a long way in making our roads and cities safer."
Ola has been spearheading campaigns for safe rides and safer roads in the region. Recently, on New Year's eve, Ola deployed more than 500 shuttles to ferry over 10,000 people to their homes from popular party hot-spots around Delhi NCR.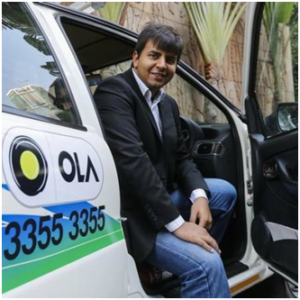 BhavishAggrawal, Co-Founder
Deep Singh, Business Head – North at Ola said, "It is an honour to partner with Delhi Police in its on-going effort to educate and sensitize citizens to act responsibly, thereby making the city a better place. Through this unique campaign, we are encouraging people to take a safe ride back home instead of driving drunk, post partying and do their bit to make our roads and cities safer. Thousands of people took a free and safe Ola Prime ride back home as part of this campaign last week. We will soon extend similar programs to other parts of the city and will continue to contribute to Delhi Police's efforts to curb the menace of drunken driving."
Ola provides safe and reliable transport to millions of customers in India everyday. Ola has more than 350,000 cabs and more than 80,000 autos and taxis on its platform in 102 cities across the country.