Multi Modal Logistic Park at Balli Inaugurated : Trade & Industry to greatly benefit from the economic transport solutions & state of the art facilities
A Multi Modal Logistics Park at Balli Station near Madgaon in Goa state on Konkan Railway route was inaugurated by CMD Konkan Railway Shri Sanjay Gupta and  P K Agarwal, Director, Container Corporation on 28.03.2018. The park has been set up with an investment of Rs 43 Cr. as per the MoU entered between Konkan Railway & Container Corporation of India Ltd.(CONCOR).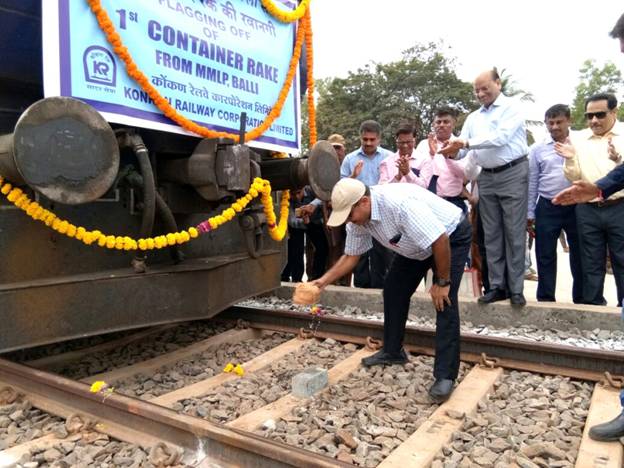 The distance between JNPT port of Mumbai and Goa is around 650 Km. Presently containers from Goa reach JNPT via road in 30-40 hrs. After completion of Container Depot at Balli the containers could reach JNPT within 16 to 18 hrs which will not only save the time but also cost of transportation, relieving congestion on road and last but not least the fuel which in turn would affect reduction in pollution.
Both Trade & Industry in Goa will greatly benefit from the economic transport solutions & state of the art facilities that CONCOR will be providing in partnership with Konkan Railway at this facility. In the first year of operations itself, the facility is likely to generate additional source of revenue for Konkan Railway.
The facility is initially spread over 81,300 square meters with a scope for expansion as the traffic may grow in future. This Logistics Park will be able to handle both Domestic and Exim Container Traffic. In addition to container traffic, commodities transported by both open and covered wagons can also be handled from here. 5000 square meters of Custom Bonded Warehousing space is also being created and a host of value added services like stuffing, repackaging etc will be available to its users.
————-