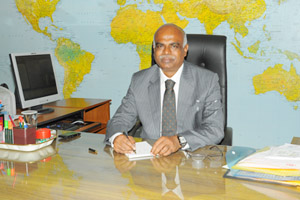 Mr. S Anantha Chandra Bose taken charge as Chairman of V.O. Chidambaranar Port Trust on 16th September 2013 as per the orders of the Ministry of Shipping, Government of India.
Mr.Bose hails from Kanyakumari District. An expert in Port Operations, Mr.Bose is a First Class Post Graduate in Economics from Loyola College, Chennai and has a First Class Post Graduate Diploma in Industrial Relations and Industrial Psychology from IIT, Kharagpur.
He started his career as Probationary Assistant Traffic Manager in Chennai Port Trust and worked in various capacities as Docks Manager (Operations), Container Terminal Manager and Deputy Chairman, Chennai Dock Labour Board. He had earlier served as a Consultant to the International Labour Organization for delivery of the Port Worker Development at Mauritius for two years and also delivered Lectures on Management of Container Terminal Operations at Kingston, Jamaica.
Later, he joined the erstwhile Tuticorin Port Trust as Traffic Manager from where he was appointed as Chief Port Administrator, Andaman & Nicobar Administration and later joined the Paradip Port Trust as Deputy Chairman.
He was a regular visiting Faculty to the National Institute of Port Management, Chennai. Attended various training programmes conducted by UNCTAD at Manila, Phillipines; Mombassa, Kenya; Johor Baru, Malaysia; Tokyo, Japan including the study tour made to USA and European Countries.
As Chairman of V.O. Chidambaranar Port Trust, he hopes V.O. Chidambaranar would uphold its commitment to achieve Ministry's Target of 30 Million Tonnes despite global cues. He further stated that V.O. Chidambaranar Port would augment its capacity from 33.34 Million Tonnes to 85 Million Tonnes by instigating various PPP Projects to meet the needs of the trade by the year 2015-16.