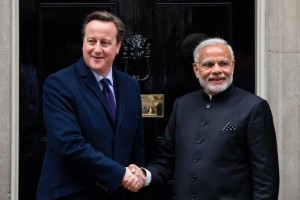 Prime Minister Narendra Modi's three-day visit to Britain has seen India and the UK agreeing on Rs 90,000 crore in commercial deals and concluding negotiations over a deal that seeks to increase bilateral cooperation in the field of civil and military technology and nuclear research projects. The major investments made by the private sector on both sides include:
Energy
Light source Renewable Energy Holdings has announced a Rs 20,000 crore investment in India. It will design, install and manage around 3 gigawatts of solar power infrastructure in India over the next five years.
Technology Company Intelligent Energy is now facilitating an initial order of over 10,000 hydrogen fuel cells, worth over Rs 1,280 crore.
OPG Power Ventures will invest Rs 29,000 crore in India, creating around 100 UK jobs over the next few years as well as jobs in India. The investment will create 4,200 megawatts (Mw) of new power capacity in India, of which 1,000 Mw will be solar power and 3,200 Mw will be thermal and renewable power in Tamil Nadu.
Information technology
Kloudpad Mobility Research's Rs 1,000 crore investment to produce the next generation of smart watches, wearable and tablets in south India will support 50 highly skilled researchers in the UK and create 2,500 manufacturing jobs in India.
Vodafone has announced further investments in India totaling Rs 13,000 crore. These include Rs 8,000 crore to upgrade and expand its country-wide network coverage and Rs 3,000 crore in its technology centers in Pune and Ahmedabad. A further Rs 1,000 crore will be invested in a data center to provide customized communication services for enterprises. Another Rs 1,000 crore investment will go into the setting up of a payment bank.
Wipro is increasing its investment in the UK with the opening of its newest office for Wipro Digital. Wipro Digital employs more than 50 people in London and plans to hire another 200 in the next 12 months.
Health care
King's College Hospital NHS Foundation Trust and Indo UK Healthcare Pvt Ltd will set up King's College Hospital, Chandigarh. This is the first of 11 institutes for health that will be developed across India, which when fully implemented will amount to a Rs 10,000 crore investment in India's health care system.
SSPSL, a subsidiary of India's Strides Shasun and a leading provider of services to the pharmaceutical industry, will invest Rs 80 crore in its facility in Dudley, Tyne and Wear. This investment will create up to 60 new jobs.
Education
A partnership between the British Council and Tata Consultancy Services will see the global infotech services firm provide opportunities for 1,000 graduate interns from British universities to train and work in India. The internships will be offered between 2016 and 2020 and will be managed jointly by the British Council and TCS. Each internship will last 12 months.
HSBC announced the launch of its Skills for Life initiative in India, a program to skill 75,000 disadvantaged young people and women over five years. The program will support non-governmental organizations in implementing projects in three focus areas: employment and entrepreneurship-linked skills training for disadvantaged youth; up skilling of teachers and educators; and financial literacy and entrepreneurship development of women.
Integrated learning solutions provider Dexler is setting up Dexler Education UK, its European headquarters, with an investment of around Rs 100 crore. This will create approximately 50 UK jobs to deliver technology-assisted learning programs for use in the context of corporate training.
Creative and retail
Merlin Entertainments is to open the first Madame Tussauds on the subcontinent in New Delhi in 2017. The company will invest up to Rs 500 crore over 10 years with a view to opening more of the company's iconic global brands in India. The brands include Legoland Discovery Centre and Sea Life Aquarium.
In a deal worth Rs 200 crore, Holland & Barrett International has partnered with Apollo Hospitals to open 1,000 Holland & Barrett outlets in India over the next five years. The first store will open in New Delhi in January 2016 and there are plans to have 115 outlets operational by the end of the year.
Logistics
TVS is opening a Rs 200 crore advanced logistics facility in Barnsley, generating 100 new jobs which will grow to 500 across the TVS Group over five years. As part of Team Leidos, the company is integral to delivering Rs 5,000 crore worth of procurement savings to the ministry of defense over 13 years.
TVS has established a joint venture with the Automobile Association (AA) worth Rs 100 crore to establish the first global roadside assistance brand in the Middle East, Africa and Asia.
Finance and professional services
HDFC has announced a proposal to issue rupee-denominated bonds overseas of up to Rs 4,900 crore under Reserve Bank of India guidelines, in one or more tranches. HDFC intends to list the initial issue of bonds for trading on the London Stock Exchange.
Bharti Airtel announced that it intended to issue its maiden sterling bond of up to Rs 5,000 crore to be listed on the London Stock Exchange. The potential bond issue is subject to market conditions and will help Bharti extend maturities and diversify the investor base in its debt portfolio.
Indiabulls Housing Finance Limited has invested Rs 660 crore in OakNorth Bank, a recently authorized bank lending to small business owners. With this investment, Indiabulls will hold a 40 per cent stake in OakNorth. State Bank of India announced the opening of two new branches in Hounslow and Ilford. This is expected to generate new jobs.
London Stock Exchange Group and Yes Bank will sign an agreement to foster the development of bond and equity issuance, with a focus on green infrastructure finance. Yes Bank plans to list a green bond of up to Rs 3,300 crore through medium term notes on the London Stock Exchange by December 2016. Yes Bank also intends to raise further capital in London, potentially through the listing of global depository receipts as part of its overall Rs 6,500 crore equity capital raising plans.