Looking for a business that technology has yet to disrupt? Former McKinsey & Co. consultant Deepak Garg senses a candidate in the world's fastest-growing major economy.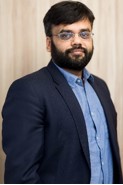 Garg's target is the fragmented trucking industry in India, whose freight transport market could be worth as much as South Africa's economy by 2020. His two-year old company Rivigo Services Pvt. deploys Internet-connected trucks loaded with sensors that feed data to coders, who then try to work out how to cut travel times while improving reliability and customer experience.
"I quit McKinsey in 2014 to start up with no background in logistics because it looked like the biggest sector to solve problems for," 34-year-old Garg said in an interview last month in New Delhi. "We spend hundreds of billions of dollars in logistics, but still very inefficiently."
In offices near the national capital, software engineers try to map the fastest routes, taking into account factors such as traffic snarls or long queues at India's inter-state checkpoints. Trucks are monitored via satellite so drivers don't stop unnecessarily. Rivigo claims it can more than halve usual delivery times and even rival air freight across the world's seventh-largest land area.
More than half India's goods are shipped by road and volumes are rising, stoked by everything from surging e-commerce sales to demand for car parts. The task for the fledgling haulier with a 1,000 truck fleet is to convince cost-sensitive companies that its service is worth the premium, compared with established operators such as VRL Logistics Ltd. or Transport Corp. of India.
Rivigo's prices are "on the higher side" but that's partly because of the investment in technology that the business is making, such as a live tracking app for clients and the ability to remotely control temperatures in refrigerated lorries, Garg said.
"We've given an option of a modal shift from air to road," he said, adding Rivigo costs "substantially" less than air freight.
"In a lot of segments, we have given an option of from rail to road," Garg said. "In rail, there's a lot of pilferage and less control."
Aside from Garg, another six Rivigo employees worked for McKinsey, according to the haulier's website. The connection even carries on to Rivigo's private equity backer SAIF Partners, where the team overseeing the investment also spent time at the U.S. consultancy.
"This is a very large, fast-growing sector, which is not impacted much by the technology revolution that we are seeing in most consumer-facing businesses," said Deepak Gaur, managing director at SAIF Partners in Gurgaon near New Delhi.
India placed 54th in the World Bank's 2014 logistics performance index, a middling ranking among major emerging markets and down from 39th in 2007, signaling scope for improvement. Average U.S. truck speeds can exceed 89 kilometers (55 miles) per hour on highways. In India, a long-distance average of 12.7 kilometers is considered good.
Asia's No. 3 economy has the longest road network after the U.S., but congestion slows speeds. Drivers also face delays at about 180 checkpoints set up by India's 29 sates to enforce local levies such as sales taxes and entry fees.
A plan to subsume the forest of state levies under a single national sales tax that should curb checkpoints has been stalled for years. When eventually passed, the measure will make transport more efficient and present opportunities for hauliers, Garg said.
Rivigo's goal is to become India's top logistics company with a fleet of thousands of trucks. That contrasts with the fragmented current state of the industry domestically, a pattern that's out of step with a wave of consolidation among logistics providers elsewhere in Asia.
Owners of batches of 5 trucks or less account for about three-quarters of the fleet in India, according to research by G. Raghuram, a professor specializing in transport at the Indian Institute of Management, Ahmedabad.
Corruption flares because officials at checkpoints demand bribes to turn a blind eye to violations such as overloading. Frequent other stops boost scope for theft from carriers.
Rivigo uses a relay model to try to keep drivers fresh and minimize stops — a driver hauls for a section of a trip before handing over to a colleague and taking another load back home.
"The benefits are huge in terms of turnaround time, asset utilization, driver lifestyle — he comes back home every day," Garg said.
India's freight transport market will expand to about $308 billion by 2020, Bengaluru-based Novonous Business Consulting Pvt. estimates.
Rivigo is aiming for a fleet of as many as 3,000 trucks in a year and plans to list on the stock market around 2020. By comparison, VRL Logistics has 3,739 goods transport vehicles, according to its website.
One the biggest challenges, Garg said, is to create and maintain a culture of modernization in an industry that's so far resisted such changes.
"The ecosystem is still not mature," he said.
courtesy: the peninsula