~ Aims to solve the mobility challenges across multiple Indian cities ~
BENGALURU, Moto Business Service India Pvt. Ltd. (MBSI), a subsidiary of Yamaha Motor Co., Ltd., operates an asset management business, specializing in the leasing of vehicles to Mobility as a Service (MaaS) operators. In a strategic move to bolster its reach, MBSI has partnered with Royal Brothers, a major Indian motorcycle rental operator, to fuel further expansion in the country's mobility sector.
Moto Business Service India Pvt. Ltd. (MBSI) was established in 2021, with Royal Brothers as its first business partner. Yamaha Motor strengthened the partnership by making a strategic, undisclosed investment in Royal Brothers.
Yamaha Motor designated mobility service as new business in 'Strategic Business Fields' in its new Medium-Term Management Plan (2022-2024) and is promoting business development in mobility services and collaborating with local companies around the world. Yamaha Motor's investment in Royal Brothers aligns with this strategic initiative, signifying Yamaha's commitment to fostering and expanding its presence within the mobility services sector.
Yamaha Motor's recent investment has led to a significant expansion and diversification of services for both MBSI and Royal Brothers. Royal Brothers has increased its fleet with this investment, and MBSI has commenced the deployment of over 1000 vehicles on the Royal Brothers platform in South India. Royal Brothers is now preparing to extend its services to North, West, and East India. This collaboration not only reinforces Royal Brothers plans for individual customers but also aims to strengthen its business-to-business (B2B) sector, particularly in the last-mile delivery sector. The collaboration additionally emphasizes support for women riders, highlighting a shared commitment to inclusivity and accessibility.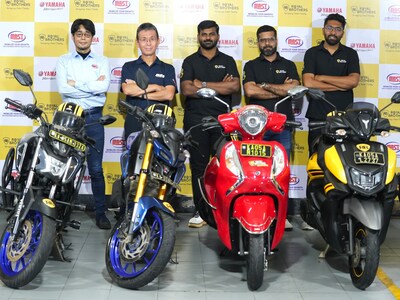 Nakao Hiroshi, Managing Director of MBSI, said "Yamaha Motor is strongly committed to expanding MBSI in India through innovative business models that go beyond traditional ownership approaches, aiming to enhance MBSI's market presence and cater to diverse mobility needs. Notably, Royal Brothers has been one of our primary strategic partners, and Yamaha Motor's investment will support Royal Brothers for their business expansion of vehicles and services across India. We plan to work with more mobility companies in the future and to transform the overall shared mobility space in India by bringing our financial and strategic experience from our stakeholders."
Operating as an asset management business, MBSI leases motorcycles to Mobility as a Service (MaaS) operators, facilitating vehicle sharing, taxis, logistics, and more. By creating job opportunities through its operations, the company contributes to enhancing the overall standard of living for people across India. Additionally, MBSI is geared towards expanding Yamaha Motor's mobility service business in India through future partnerships with other MaaS operators.
"We are honoured to receive this investment from Yamaha Motor Co., Ltd.," said Abhishek Chandrashekar, CEO at Royal Brothers. "This collaboration signifies our joint commitment to excellence, innovation, and our focus on the riding community. We want to make it easy for 500 million Indians to ride motorcycles or scooters without the need to own the vehicles. Yamaha Motor's investment in Royal Brothers will enable us to expand our inventory and solidify our market presence. Empowering women in the industry and introducing a Business to Business (B2B) model will enable Royal Brothers to further diversify the Indian mobility sector, fostering growth and innovation."
Established in Karnataka in 2015, Royal Brothers is dedicated to building India's largest mobility solution provider. Operating in multiple cities across India, the company offers a diverse range of two-wheelers, including Mopeds, Scooters, and Superbikes. Royal Brothers plans to introduce safe and women-focused riding gear rentals across its operational cities. The bike rental company is strategically working on its EV (Electric Vehicles) portfolio and business model to ensure a wider segment of environment-friendly vehicles which can be launched on Indian roads, and which aligns with MBSI's mission of working towards a cleaner and greener environment in the country.
"Investing with Royal Brothers signifies a strategic leap for us." stated Terajima Shungo, General Manager, Mobility Service Business Division. "Yamaha Motor views India as a major mobility market and is dedicated to diversifying its approach beyond traditional ownership models. We are focused on channeling managerial resources to foster the growth of innovative mobility solutions and establish them as core ventures aligned with strategic goals. The decision to invest in Royal Brothers is aimed at fostering their growth, thereby contributing to an enhanced quality of life for people in India. This partnership signifies a significant milestone and reflects Yamaha Motor's unwavering commitment to transforming urban mobility and reshaping the transportation landscape in the country."