The country's top 12 major ports witnessed 3.26 per cent rise in cargo traffic to 382.91 million tonnes (MT) during April-October period of the current fiscal, mainly due to pick up in iron ore demand.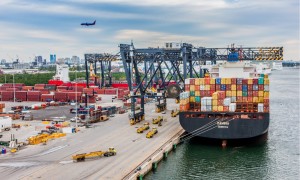 These top ports, under the control of the Centre, had handled 370.81 MT cargo during the April-October period of the last fiscal.
The growth in cargo traffic was mainly on the back of higher handling of products like iron ore and POL (petroleum, oil and lubricants) besides containers, as per data from the Indian Ports Association (IPA).
The ports recorded a 17.97 per cent growth in handling of iron ore traffic during the period to 25.30 MT, while both POL and containers registered a growth of over 6 per cent each.
Kandla Port handled the highest traffic volume of 63.13 MT during the April-October period followed by Paradip Port 55.78 MT, JNPT 37.90 MT, Mumbai Port 36.72 MT and Visakhapatnam 35.74 MT, according to IPA data.
Kolkata Port, including Haldia, handled 32.13 MT of cargo, while Chennai Port handled 30.48 MT.
Volume of seaborne cargo is essentially in the nature of derived demand and is mainly shaped by the levels and changes in both the global and domestic activity.
India has 12 major ports: Kandla, Mumbai, JNPT, Marmugao, New Mangalore, Cochin, Chennai, Ennore, V O Chidambarnar, Visakhapatnam, Paradip and Kolkata (including Haldia), which handle approximately 61 per cent of the country's total cargo traffic.