Mahindra XUV400 Sets Unprecedented Record as the First EV to Travel Across Rann of Kutch on a Single Charge
MUMBAI: Mahindra & Mahindra Ltd., a pioneer in the SUV segment, has achieved a new milestone today, with its first e-SUV, the Mahindra XUV400, entering the India Book of Records. The XUV400 has become the first electric vehicle (EV) to successfully cross the challenging Rann of Kutch in India on a single charge, showcasing the impressive capabilities of Mahindra's EV technology.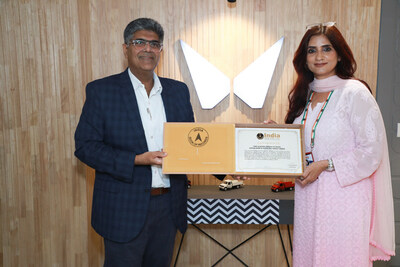 In collaboration with car&bike team, the record-setting journey started from Bajana, Gujarat, and covered the route through Zinzuwada, Little Rann of Kutch, Adesar, Momaimora, Mouvana, Bela, Dholavira, and the Road to Heaven, before reaching Dhordo, the beginning of the White Rann. The all-electric SUV traversed through tight, narrow, country roads with slush, potholes, and railway crossings. The XUV400 started its journey from Bajana, east of the Little Rann of Kutch at 6.19AM and drove all the way to the White Rann near Dhordo in the greater Rann of Kutch, reaching the destination at 6.34PM at an average speed of 35.9kmph as officiated by the India Book of Records..
XUV400 is the first all-electric Mahindra SUV to embody the company's new brand identity as represented by its satin-copper twin peaks logo. The all-electric XUV400 is generously sized and boasts cutting-edge technology, powerful features and thrilling performance. The all-electric XUV400 has the fastest acceleration in the non-luxury segment; 0-100 km/h in a mere 8.3 s, top speed of 150 km/h. Operating in the C-segment SUV category, the XUV400 is 4200 mm long and boasts a wheelbase of 2600 mm, which offers its occupants not only excellent cabin space and legroom to luxuriate in but also best-in-class boot space of 378 l /418 l (up to roof). The XUV400 provides the highest power 110kW (150PS) and torque 310 Nm in its segment, powered by a high capacity 39.4 kW lithium-ion battery, delivering an anxiety-free range of 456 km.
Recently, the XUV400 also set another record for the maximum distance covered by an EV in 24 hours at sub-zero temperatures. The drive that started from Kyelong, Lahaul Spiti, Himachal Pradesh ended at the same place after covering a total distance of 751 km. The EV car expedition was conducted in subzero temperatures at an average speed of 50kmph.