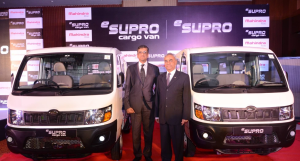 Mahindra & Mahindra announced that it will deliver 50 units of its recently launched eSupro Cargo van to Brring Logistics. A provider of last mile delivery services for Big Basket, Brring is the online grocery site of Innovative Retail Concepts, India's largest online food and grocery store. This will also make Brring the first logistics company in India to deploy electric vehicles in their fleet and Big Basket the first Indian e-commerce company to use EVs for last mile transportation.
The first consignment of 10 eSupro cargo vans were handed over to Brring Logistics, recently in New Delhi. Commenting on the handover of the eSupro vans, Mahesh Babu, CEO-designate, Mahindra Electric said "We are delighted to hand over eSupro vans to Brring, as it will usher in a whole new concept in cargo transportation. It is a great step by Brring to move toward sustainable mobility. With a host of commercial applications and its suitability for last mile delivery, the eSupro Cargo Van is ideally suited for deployment in e-commerce, courier services and with transportation companies. Going forward, this will encourage other companies, especially in the B2B segment, to use the eSupro range of electric vehicles."
According to Abhishek Nehru, CEO, Brring Integrated Logistics said "With Mahindra eSupro, Brring Integrated Logistics has taken another big leap forward in creating an eco-friendly supply chain which is aligned with our vision 'To be the pioneer in end to end supply chain solutions for the food, beverage & perishables industry and 'Reinvent Supply Chains the Greener Way'.