Maersk appoints Ryan Best as new Regional Head
Maersk appoints Ryan Best as new Regional Head of Logistics & Services for West Central Asia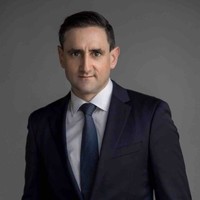 Ryan Best will assume responsibility in the leadership team of Maersk West Central Asia starting April 2021Maersk has appointed Ryan Best as new Regional Head of Logistics & Services for West Central Asia (WCA) effective April 2021. Integrated container logistics has been at the forefront of Maersk's strategy and the Logistics & Services portfolio within the organisation plays a critical role in this aspect, expanding Maersk's footprint on land to enable integrated, end-to-end container logistics solutions. In his new role as the Regional Head of Logistics & Services, Ryan Best will play a key part in building end-to-end solutions for customers' supply chains across geographies including but not limited to markets such as India, Sri Lanka, Bangladesh, Pakistan, UAE and Saudi Arabia.
"I am pleased to welcome Ryan Best to Maersk WCA where his vast experience, expertise and track record of success will enable us to swiftly accelerate our growth ambitions in the region. His contribution will be instrumental to our continued transformation journey to become the global integrator of container logistics", said Richard Morgan, Managing Director, Maersk West Central Asia.
A British citizen, Ryan Best comes with an extensive experience of over 25 years in the logistics industry. Having held several senior positions in operations, sales and supply chain across Africa, UK, Australasia and APAC markets, Ryan's most recent employment was at Agility Global Logistics where he held the position of Vice President, Integrated Supply Chain Solutions for the APAC region.
Ryan Best expressed, "There couldn't have been a better time to join an organisation like Maersk, being at an inflection point in its strategic transformation. I am excited to participate in this transformation journey and contribute towards the company's success in the West Central Asia market."