About half a dozen fund managers have raised over Rs 12,500 crore for the new funds in logistics
Call it a goods and services (GST) impact or growing e-commerce segment, it is raining private equity (PE) funds in logistics and warehousing space.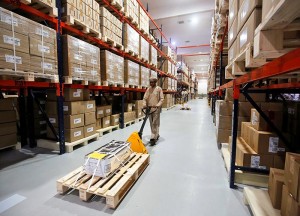 About half-a-dozen fund managers and developers have raised or in the process of raising over 12,500 crore for the new funds and ventures in logistics and warehousing space.
Last month, IndoSpace, promoted by PE firm Everstone and the United States-based Realterm, said it has launched a $550 million third fund, IndoSpace III. IndoSpace said it has received about $300-million commitments for this new fund in the first round close, and is expected to make the final close in the next few months.
Earlier this year, IndoSpace and Canada Pension Plan Investment Board (CPPIB) created a joint venture, IndoSpace Core, that will focus on acquiring and developing logistics facilities in India. CPPIB also made a commitment of over $1 billion towards IndoSpace's assets.
IndoSpace so far has raised $584 million across two industrial real estate funds. The first fund, IndoSpace Logistics Parks I (ILP I), was raised in 2009 with a corpus of $240 million, and the second fund, IndoSpace Logistics Parks II (ILP II), was raised in 2014 with a corpus of $344 million.
"Strong fundamentals such as improved infrastructure as well as the landmark regulatory reform of the GST, which has created a single national market, and a fast-growing e-commerce sector are a shot in the arm for warehousing and logistics industry. There is a continuous demand for high-quality modern logistics and warehousing facilities, which is going to help further drive the country's economic growth," IndoSpace said while announcing the launch of the fund.
Last month, logistics company LOGOS India said it had raised $400 million in equity from Ivanhoé Cambridge, the real estate subsidiary of Canada's second largest fund manager CDPQ and Vancouver-based QuadReal Property Group to develop logistics facilities in the country.
LOGOS India is a partnership between LOGOS Group and Assetz Property Group, headquartered in Sydney and Singapore, respectively. LOGOS India will invest a total of $800 million, including the $400 million it has raised.
Recently, Singapore-based investor/developer Ascendas-Singbridge Group also formed a $600-million joint venture with Firstspace Realty to enter the industrial logistics and warehousing market.
Standard Chartered Private Equity is also in the final leg of talks with an Indian company to set up industrial and warehousing facilities in the country, and the venture could have a corpus of $300 million.
Home-grown Milestone Capital is also planning to launch a warehousing fund with a target of $156 million or Rs 1,000 crore. "The fund will be a seven-year fund and we intend raising the money starting first quarter of 2018," said Sandeep Chadha, partner, real estate investments at Milestone Capital.
Milestone intends developing five to seven logistics parks spread across National Capital Region, Mumbai, Pune, Chennai, Bengaluru, Ahmedabad, Hyderabad, and Kolkata, Chadha said. The fund will target an average yield of 13-14 per cent over the life of the fund and a target gross IRR (internal rate of returns) between 22-23 per cent for its domestic and overseas investors.
The country witnessed a 10 million sq ft of warehousing assets being added in 2016.
The top seven warehousing markets of the country transacted 17 million sq ft of space on an annual basis.
Requirement from the e-tail segment will more than double from 14 million sq ft in 2016 to 29 million sq ft by 2020, resulting in an annual growth of 19 per cent, according to Milestone Capital.
(Courtesy:Business Standard)