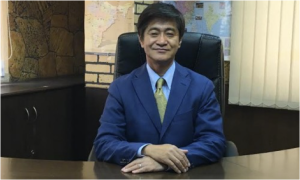 Contemporary service to address critical goods transportation
Set to be a game changer in Indian logistics & goods transport industry
Bengaluru, KWE India, the Indian subsidiary of Kintetsu World Express (KWE) and part of the Japanese global conglomerate Kintetsu Group, has introduced a unique service – 'Air Ride Truck' in the Indian market. This is a new concept in the transport industry, which KWE has pioneered and introduced in the Japanese & Chinese market with huge success.
This pioneering solution ensures a much higher shock absorbency ratio to provide a smoother ride to the truck and therefore the trailers cargo. In the air ride suspension system a bladder or bag of compressed air replaces the standard steel spring. Owing to this the trailers cargo actually floats on a cushion of air, which nearly eliminates both compression damage and telescoping.
According to Mr. Mineo Suzuki, Managing Director, KWE India, "We at KWE constantly strive to offer contemporary services to our customers and in the process ensure we deliver value added services that addresses superior logistics & goods transport needs of our esteemed clients. In tune with this thinking Air Ride Truck service will be a game changer in Indian market."
With Indian manufacturing sector witnessing dramatic changes and also production of high value goods picking up the relevance of 'Air Ride Truck' solution becomes a necessity as it ensures damage free transportation, speedy & timely delivery, pointed out Mr. Karthi Baskar, Deputy Managing Director, KWE India. Further, he indicated anything fragile or anything that becomes volatile when exposed to shock or sudden movements will require air ride transport, in addition to other more standard precautions.
The Air Ride Truck solution will be ideal for high value goods like aerospace products & glass equipment's; electronic components / products that are fragile, delicate machineries, sensitive cargo and valuable products. The advantages of Air Ride Truck include – support the vertical load imposed by the truck, body & pay load; transfer longitudinal, acceleration & deceleration forces between axles & frame; provide chassis isolation or cushioning from axle motions (ride quality); maintain wheel location and altitude (alignment); provide stability or rollover resistance; constant ride height (no change in platform height during loading and unloading); Extends a longer life to the body and chassis components; no body rattling; reduces vibration; reduces fatigue to the driver; ease of maintenance & service ; good roll stability and reduced travel sickness.