Kale Logistics Solutions awarded 'Most Innovative company – service category' at CII Industrial Innovation Awards 2018
Kale Logistics Solutions, a leading provider of IT Solutions for the logistics industry, has won the award for 'Most Innovative company – service category' at the CII Industrial Innovation Awards 2018 and has been recognized as amongst the TOP 25 innovative Indian companies. The awards recognize innovation amongst Indian companies based on the CII Industrial Innovation Framework, each year. Kale Logistics Solutions was lauded for its innovative work on digital trade facilitation and cargo community systems. The Awards ceremony was organized on 3 December at 'Global Future Business Forum' in Delhi where names of the winners were announced and they were conferred with the awards. Amar More, CEO, Kale Logistics Solutions, was present at the event to receive the award.
CII Industrial Innovation Awards were first instituted in 2014 to identify and celebrate innovative Indian enterprises across industry segments and sectors. The focus of the awards is on firm level Innovation capability building and encourage Indian firms to remain competitive in domestic as well as in global markets. The award is divided into six-stage funnel process which includes thorough assessment by CII assessors and grand jury, which consists of Indian and International experts who decide the award winning company in each of the awards category. At every stage, the shortlisted companies are measured on innovation culture, innovation management and results of innovation.  In last 4 consecutive years, this recognition has established itself as one of the most coveted innovation awards in India.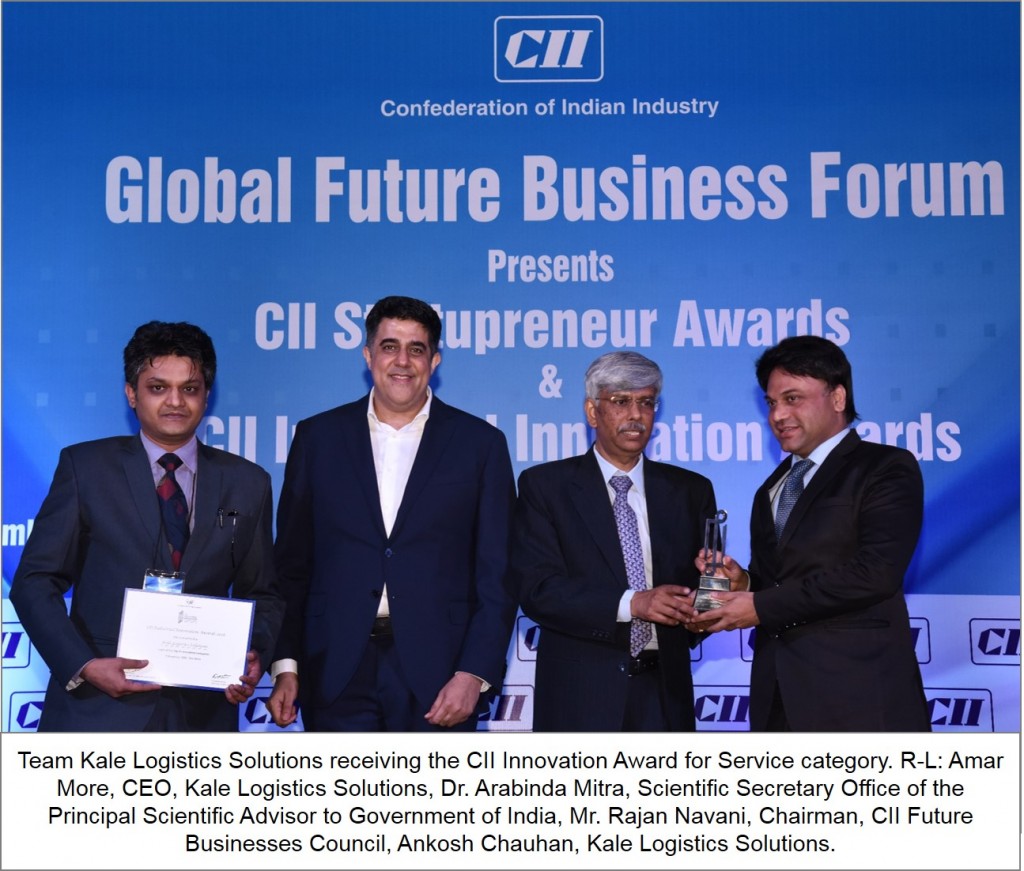 Mr. Amar More, CEO, Kale Logistics Solutions said, "We are absolutely delighted to receive this prestigious award from CII and be recognized as one of the "Changemakers" in the Logistics space. This award is a recognition of the innovation, dedication and sheer determination of the Kale Logistics Solutions team to go beyond the ordinary and innovate at an exceptional level. It is also a recognition for our continuous work on digital trade facilitation initiatives like digital freight corridors and cargo community systems, which are transforming the logistics industry. We thank CII for recognizing our work and contributions to the logistics industry and for providing the impetus to us for creating the next big innovation in logistics."
One of the notable achievement from Kale Logistics Solutions' Port Community System – CODEX has been streamlining the tax (IGST) refund process of the Indian exporter at Tuticorin Port. This platform has enabled instant IGST refunds within 3 business days. IGST refunds is a big issue with the exporters in India, there are millions of rupees of refunds stuck with the government due to data inconsistency. This is blunting the competitive edge of exports and is causing liquidity problem. With CODEX this challenge finds a solution.
The Awards evaluate all kind of new processes, products, services, technologies, and other type of innovations that have the ability to fuel growth within the Industry. It also assesses new ideas and approaches along with tangible results. Over the years, CII has formulated an Enterprise Innovation Maturity Framework, which forms the basis of assessment of firms applying for CII Industrial Innovation Awards. With this framework in place, firms learn about innovation best practices by taking part in various stages of the award process.