Osaka Port, Japan celebrated its 150th anniversary on July 15, 2017. The Mayor
of Osaka and Chairman of the Port of Osaka 150th Anniversary Project Committee invited its global
partners including JNPT to be part of the 2-day celebrations held on July 14-15, 2017.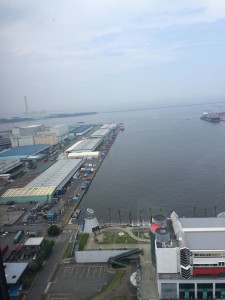 Shri Neeraj Bansal, Deputy Chairman and Shri SV Madhbhavi, CMPPD represented JNPT at this event. JNPT
participated in the Asia Global Ports Conference with the theme of Ports' Approaches to the Development
of the Rapidly – Growing Asian Economy organised as part of the 2-day event.
Shri Neeraj Bansal appraised the gathering about the Indian Maritime Sector with existing cargo handling
capacity and future expansion plans. He highlighted the Indian Ministry of Shipping's Sagarmala Program
under which development of new ports, transhipment ports to create capacity addition are planned along
with development of smart cities, maritime & manufacturing clusters.
Shri Bansal shared details about the Shipping Ministry's vision document on Sagarmala which factors in
next 20 years cargo projection, cargo profiling, capacity addition to cater to new cargo demand. It not only
takes care of sea-side development but also the entire logistic chain on the land side. The vision of Indian
Government which has identified 'Coastal Shipping', 'Inland Water Ways', as an economic and efficient
mode of cargo transportation. Multi Modal logistic hubs are another step taken to drastically reduce the
logistic cost.
At the conference, representatives of global major ports debated on newer areas of co-operation among
ports to create more value for respective nations. The representatives also discussed the increased
percentage of movement of empty containers and possible ways to reduce the logistic cost on the same.