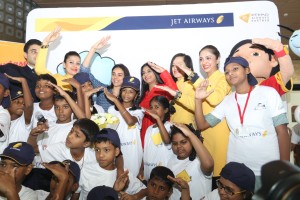 Joy ride for more than 100 children from three NGOs; Save The Children India, Nanhi Kali and Shelter Don Bosco
Jet Airways, India's premier international airline, celebrated Children's Day by giving wings to the flying dreams of over 100 children from NGO's, that work with marginalised sections of the society, via its 'Flight of Fantasy' initiative.
Flight of Fantasy, Jet Airways' annual engagement, now in its 19th year, is an integral part of the airline's social outreach initiative. The programme aims to fulfill the dream of flying of less privileged children for the very first time by inviting them on-board and treating them to a once in a lifetime flying experience. Through this unique program, Jet Airways endeavours to open up the world of aviation and the opportunities therein, to children who are vulnerable and most at risk in our society.
This year, Jet Airways partnered with leading corporates including GVK, Mumbai International Airport Limited (MIAL), Indian Oil Corporation (IOC), Oberoi Flight Services and Nickelodeon from Viacom 18, to extend young minds from Non-Governmental Organisations (NGO's) – Save The Children India, Nanhi Kali and Shelter Don Bosco – dedicated to the upliftment and education of underprivileged and differently-abled children – an opportunity to explore the skies and the world of aviation.
The fanfare and excitement for Jet Airways' annual Flight of Fantasy commenced prior to the children taking to the skies with a lively programme of music, dance and games at a special party zone had been created to entertain the children at the Domestic Departure Terminal (T2) of Chhatrapati Shivaji International Airport, Mumbai.
Famed Bollywood actresses Athiya Shetty and Aditi Rao Hydari made a surprise visit to the event which became an excellent gift for the children. Both Athiya and Aditi interacted with the children closely, answering queries on films, distributed gifts and personally greeted each and every child along with patiently signing autographs and taking selfies, creating a memory that will be etched in the minds of the children forever.
Jayaraj Shanmugam, Chief Commercial Officer, Jet Airways, said, "Jet Airways' has always focused on supporting causes related to the development of children and their education, especially the less fortunate ones, as part of its commitment to society. Creating long lasting memories and beaming faces of joy is our true reward."