100% Electric Luxury Coach – JBM GALAXY
Also showcases its new series of e-buses including City Bus, Staff Bus and School Bus
Continuing its mission to transform public mobility and expand its business in the emerging electric vehicles sector, JBM Auto today launched India's first completely designed and manufactured 100% electric luxury coach – JBM GALAXY. The luxury coach was unveiled by Mr. S.K. Arya, Chairman and Mr. Nishant Arya, Vice Chairman, JBM Group. JBM Auto is the flagship company of the $2.2 billion global Indian conglomerate, JBM Group.
This launch of JBM's luxury coach marks a historic shift for the coach industry so far dominated by foreign players and conforms to the government's 'Make in India' initiative. The company has also showcased 3 new products in its electric bus series that cater to diverse platforms like city, staff and school segments. These new launches will further bolster JBM Group's vision of making India the EV capital of the world.
With over 1000 JBM electric buses plying in over 12 states pan India, the company has clocked 50+ million e-kms having served over 100 million passengers till date.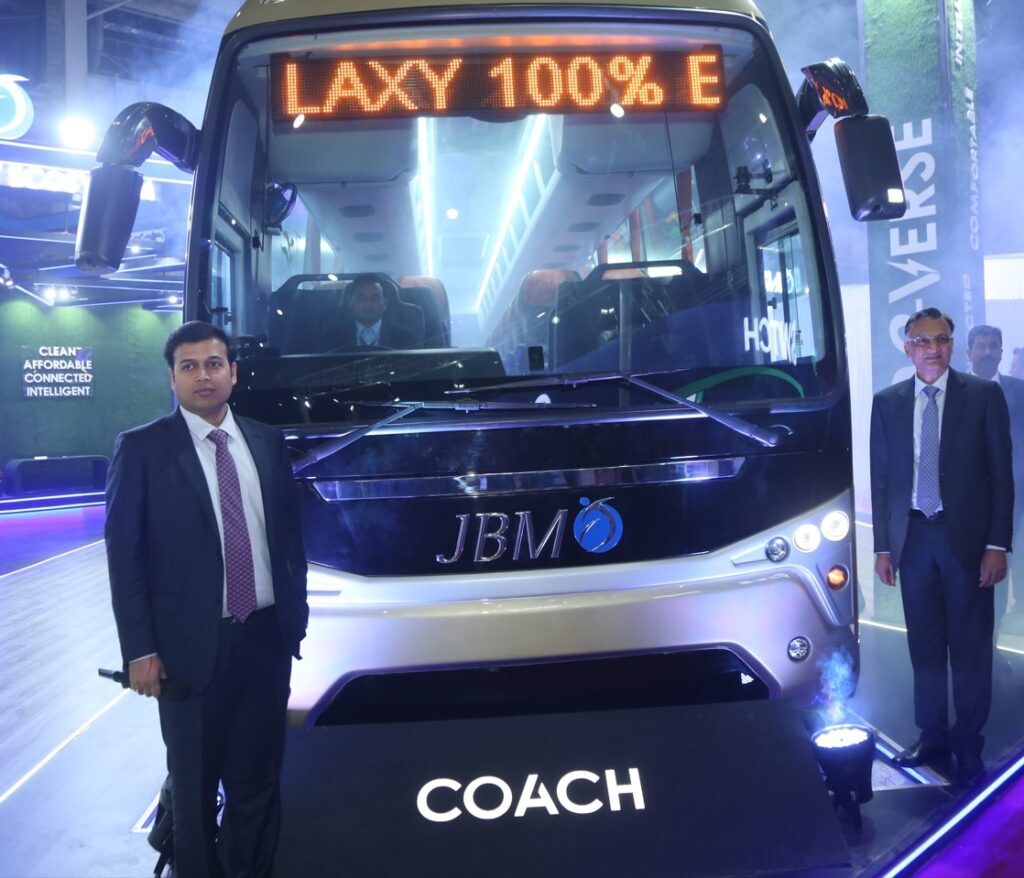 Unveiling the buses, Mr. Nishant Arya, Vice Chairman, JBM Group said, "This is a momentous occasion for us as we enter the long-range electric luxury coaches segment. This launch completes our product offering in the commercial passenger segment that will contribute to sustainable and efficient public transport across the country.
"The new range of electric buses will address the growing market requirements, especially of fleet owners, who are looking for sustainable, safe, reliable and profitable operations. We believe that this segment will continue to grow exponentially over the next few years. JBM Group is the only player in the Indian market to offer an entire EV ecosystem and is committed to investing in green mobility solutions and best in class technology. We shall also be investing in upgrading our current plants and setting up new plants to cater to growing demand from our customers."
JBM Galaxy coaches have been designed keeping in mind luxury, including convenience and style, comfort, safety and performance. The 12-metre, high-floor coaches are equipped with the latest infotainment systems, modern utilities like wifi, mobile charging ports, comfortable reclining seats, saloon lighting and best in class safety features. With a seating capacity of 45 passengers, the new coaches are powered by high energy density advanced chemistry lithium-ion batteries offering a range of upto 1000 kms per day.
JBM has been a pathbreaker in the e-mobility segment and has redefined public transportation through its best-in-class, modern and technologically superior electric buses that have established benchmarks in passenger comfort, safety, affordability, and innovation, reflecting the key ethos of JBM products. All the four types of buses are equipped with a series of customisable options and adaptable features.
The JBM Group has been working purposefully and has been a pioneer towards building a comprehensive and intelligent EV ecosystem that seamlessly integrates electric vehicles, battery technology, power infrastructure, fast charging infrastructure, power electronics and has expertise in customising them based on various geographies across the globe.
JBM electric buses, a growing number of which are currently deployed across various states such as Gujarat, Maharashtra, Karnataka, Delhi, Uttar Pradesh, Andaman & Nicobar, Goa, Telangana, etc. under the FAME scheme amongst other customers. While these buses are world class examples of product innovation, JBM electric buses are all geared to perform using carbon footprint-reducing green technology. The company has pledged that its fleet of electric buses will clock 1 billion e-kms in the next 3 years.