For the longest time, the role of logistics in business was akin to that of the backroom boy in a drama company who sets the stage for lead actors but almost never gets the applause he deserves. If anything has changed over the past decade or so, it is that businesses can no longer operate behind a curtain. The importance of logistics has come to light for everyone to see; it has now taken centre-stage as India Inc. looks to address both its domestic and international audiences.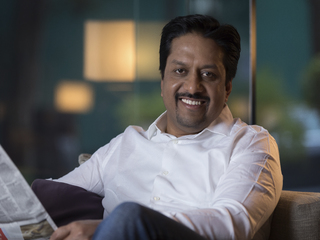 During the discussions, Neeraj Bansal, CEO, DHL SmarTrucking India said:
The Indian logistics sector is estimated to be worth $260 billion in India, having grown at a rate of 14 percent over the past five years, and is expected to grow to $397 billion by the year 2020, according to a study by the Associated Chambers of Commerce and Industry of India (ASSOCHAM). Logistics has evolved over the past couple of decades – a process that has been gaining momentum since the advent and proliferation of e-commerce.
The trend that triggered the current phase in the evolution of logistics
Before e-commerce became popular, goods were transported to large warehouses and shipped thereafter to retail stores. The store was the only consumer touchpoint. Now however, consumers make purchases online and retailers deliver the products to their doorstep. Consumers expect free, fast, and damage-free shipping of products. In recent years, e-commerce has come to include even oversized and irregularly-shaped products such as appliances and furniture.
And the volume of shipments is enormous. It was estimated that some of the biggest e-tailers in the country deliver as many as 400,000 to 500,000 shipments on a given day. Many offer consumers the option of 'trying and buying', and returning a product if it is found to be unsatisfactory. The reach of e-commerce has extended to remote, hitherto unserved locations in the country. The operating models of logistics companies have evolved to integrate emerging technologies into various processes – a move that will enable them to make the most of the fast-growing opportunity this segment offers.
The advantages of technology-driven logistics
Today, logistics systems are increasingly being shaped by advancements in the Internet of Things (IoT), Big Data, and Data Analytics. This is an important and welcome trend. From experience, logistics companies that employ these technologies can offer vastly superior services with higher levels of safety and regulatory compliance, faster transit times, real-time visibility into the status of consignments, and much better customer service. Technology underlines many of the key features of logistics solutions that cater to the highly time-bound needs of industries such as e-commerce, FMCG, pharmaceuticals, automobile, and agriculture.
Businesses that invest in such technology-driven logistics stand to gain a tremendous competitive advantage, as they are equipped to make more informed decisions, increase efficiencies, and exceed customer expectations. If you wish to differentiate further between logistics providers, look at their reverse logistics capabilities. Logistics providers who offer real-time visibility and updates on the status of reverse shipments will truly distinguish themselves and outdistance competitors.
The importance of cold chain logistics
The cold chain market in India deserves better and smarter logistics than what it had until recently, which presents an opportunity for logistics companies to expand their service offerings. The cold chain logistics market in the country is estimated to grow at a compound annual growth rate (CAGR) of more than 20 percent till 2019 but the sector is currently highly fragmented and unevenly distributed through the country. Almost 30-40 percent of all perishable goods in India are wasted before consumption because of the broken cold chain infrastructure and the unavailability of vehicles with high-quality cold-storage facility.
This challenge can be addressed, to a considerable extent, by using trucks with mechanisms for temperature control, location tracking, and rerouting. Businesses such as pharmaceuticals; dairy and confectionery; processed foods; meat and poultry; fruits and vegetables; quick-service restaurants; food services; and more, can benefit greatly from cold chain logistics providers who offer fast transit times, and consistency and reliability in their temperature-control processes during transport.
The upgrading of transportation and back-end systems, and the advancements in service offerings, by logistics providers may come at a relative premium for customers, but it will be easily offset by the vastly superior efficiencies. If you are a business leader who seeks to put their business ahead of the curve, you should consider partnering with a logistics provider who offers robust, state-of-the-art services. Logistics can be a very real and powerful differentiator for your business, if done right. It accrues long-term gains and, as developed economies have shown, it is the best way for your business to go places.