Indo-American Chamber of Commerce Honors C.H. Robinson with Corporate Leader of the Year Award
Mr. Arunprakash Thomas, director of finance, South Asia, C.H. Robinson, accepts the Corporate Leader of the Year award on behalf of C.H. Robinson. (Photo: Indo-American Chamber of Commerce)
(IACC) has selected C.H. Robinson, a leading third-party logistics provider (3PL), for its Corporate Leader of the Year award, an honor specifically for U.S.-based companies in India. C.H. Robinson received the award for its outstanding contribution to all spheres of the corporate ecosystem: business, industry and the overall community. This is the first year C.H. Robinson has been recognized with this honor.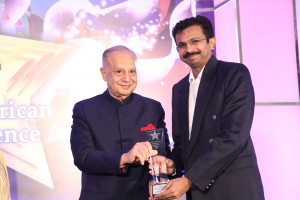 "This award is about recognizing the relationships we have with customers and the impact we're making on their business," says T.J. Srinivasaraj, vice president of South Asia at C.H. Robinson. "We often hear that navigating logistics in India can be challenging. Our local expertise is a differentiator and eases that process for our customers."
C.H. Robinson's technology solution was key to winning this award. With Navisphere®, C.H. Robinson's single instance global technology platform, companies can track and trace their shipments in real time, gaining true global supply chain visibility. C.H. Robinson is one of the only 3PLs offering global technology in the region.
"A major lack of transparency is a continuous challenge in international business," says Shaun Srivastava, route development manager at C.H. Robinson. "But at C.H. Robinson, we're the eyes and ears on the ground for our customers. We can show them what's happening with their shipments in real time using Navisphere®, ultimately making their job easier."
IACC presented the award to C.H. Robinson at the 13th Indo-American Corporate Excellence Awards on July 27, 2017, in Mumbai, India. Approximately 300 guests attended the event. Additional U.S.-based award winners include Timken India Ltd. and Virtusa Corporation.
C.H. Robinson's South Asia headquarters are located in Chennai, India. The company has had a presence in South Asia since 2006 and currently occupies 20 offices with more than 420 employees. C.H. Robinson is a top non-vessel operating common carrier (NVOCC) from Asia to the U.S.
courtest:businesswire