(A special interview by our Sarada Vishnubhatla)
The mammoth institution, India Post, renews itself and smoothes the path for e-commerce businesses successfully utilizing its enormous work force, widest possible reach across the lengths and breadths of the country and its professionalism. India Posts delivers with 99 per cent accuracy and success and wins hands down the race of e-commerce.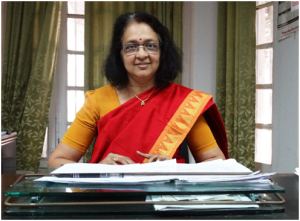 Sarada Vishnubhatla meets Veena R Srinivas, Post Master General – Business Development, India Post, Karnataka Circle and talks about how India Post has successfully brought its expertise to booking and delivering for e-commerce businesses.
Excerpts of the interview:
Q: It seems India Post has finally hitched on to the E-Commerce bandwagon…
A: Our USP at the India Post is our presence across India. So now, we not only are booking for E-com but are also delivering now. It was a year ago when we began with delivering parcels for Amazon. And, with it, our share of delivery has gone up from 3 to 12 per cent for Amazon alone. Since, last December, we started delivering for Myntra as well.
Q: Tell us the work dynamics involved.
A:They give us one set of parcels at about 8 am every morning and another batch comes at midnight. We process all this at our GPO. What comes in the night is ready by 6.30 am which is sent out with our regular mail for delivery.
During last Diwali, we delivered something like 10000 per day parcels for all E-com businesses together, which on an average meant about 1500-2000 per day. We used our own personnel who were available in the morning and afternoon at the Nodal Centers (NDC), which by the way exists only in Bangalore as of now. Each NDC has 104 delivery post offices in Bangalore city from which delivery takes place – whether of speed post, registered mail or any other format. Every NDC has 4-5 pin codes mapped to it. All the articles meant for those will reach there and then they will go out.
Now Amazon's parcels are huge, whereas Myntra's are small because they are apparels. We deliver in nine cities for Amazon by 8 pm on the same day. We update them that certain number of parcels have been delivered and updated. We have 100 per cent data integration with both Amazon and Myntra and hence they get the updation by the end of the day. We also give an incentive to the delivery persons for delivering the last leg. So either they take the incentive or if they need to hire a vehicle they can. Sometimes, they cannot carry the deliveries in their backpacks and they will have to hire a three-wheeler, then we pay for the three-wheeler. Amazon books for across Karnataka, but our delivery is consistently at 99 per cent. And, this is something they monitor at their level and share with us that 99 per cent of the time we reach, deliver and update and give it to them.
It is an 8-step cycle for us from booking to delivery and the return of the cash. But if consumers do not write the correct pin code, this cycle is not completed which causes problems. So, we have kept speed-post cash-on-delivery booking on hold. And now we have asked for what is called dynamic barcode, that is once a person has received a booking like Amazon, they will generate the barcode when they are generating the address slip and the cash that has to be collected also gets encrypted into that barcode, so that when it is received at the delivery post office whichever is the correct delivery post office, irrespective of what is written on the parcel, when he or she scans the article the server pushes the data, which then he can push it into the delivery slip of the delivery person and then it can flow back by the e-payment back as cash. India Post allows Amazon to book at any office of their choice and receive payment at any office of their choice. For example in case of business parcel, which is skyworld, booking takes place from my convenience at Bangalore city RMS at the railway station whereas the payment is received at say, Arabic college, which is where their office is so they typically would like to receive their payments there.
Amazon has 13 locations from which they can book as of now pan-India. But we allow them to make payment only at Bangalore. And then I push whatever is their revenue of the individual circles through my accounts office which is present in each state. It is just a book entry and the data flows. It's called the national account, and only Amazon has it as of now. Myntra has applied for it but they have not yet received it. But, the data flow has to be correct, and if the data doesn't flow my booking doesn't happen. It also does not allow any manual booking. SpeedNet does not allow any manual booking.
Q: Do you have a special cell to handle the E-com deliveries?
A: E-com deliveries are handled specially by dedicated people. He or she does not deliver any other and in the case of booking, apart from the bookings which take place for same day delivery at GPO, they come and give it to us and we deliver. In case of Myntra, we are picking up from their premises and then doing the booking apart from what is deliverable in Bangalore we could be booking from anywhere across India or within Karnataka as well. The booking is done at Yelahanka parcel hub, whether it is for Flipkart, Snapdeal, Zovy, Myntra, or others… we have 5-6 E-com players who book with us.
At Yelahanka parcel hub, we have crossed about 6000 parcels daily on an average, barring the festival season when the surge is high. But the same set of people handle up to 10000 parcels also. We don't have any mechanical system. Now we are getting funds for conveyor belts, volumetric weighing, otherwise transporting these outside Karnataka is a matter of concern for us.
Q: What is it like in terms of revenue for India Post?
A: In terms of revenue, up to December 2015, it was roughly about Rs. 2 crores, and now we are touching almost every month Rs. 1 crore. During the festival season that was in October-Nov, for Amazon alone it was about Rs. 2.5 crores, pan India, payment for which is received in Bangalore, of which Mumbai caters to about 35 per cent, Karnataka is 35 per cent, and the remaining locations put together it is 30 per cent. Basically the amount of business is much more in Gurgaon for Flipkart, Myntra, and for Amazon it's big in Mumbai – much more than in Karnataka – because of the sheer number which exists over there. But it depends on the feedback, monitoring and response that they get. Normally Karnataka does on their behalf also, like if the pick-up does not happen then we call up and inform them that this has not happened, probably because both Flipkart and Amazon have their headquarters in Bangalore and it seems they are more comfortable here so we do that.
In the sense for a mammoth organization like India post where it has got 22 circles. Flipkart has a system where they want only a single point of contact for whole of India, so we respond to them that its not possible with India Post because that is not our system or hierarchy of functioning in a government machinery. And, Flipkart does not have complete integration themselves while at Amazon and Myntra, it is 100 percent. They have a single point of contact, they have a division within themselves, in the sense that technology is handled by one person, financials by another person, every circle has a point of contact for their marketing booking, for example. But there is only one face with whom everyone can interface, who then integrates it back.