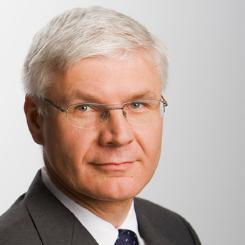 Dr.Aulbur on the Make in India initiative and the challenges ahead for the country's manufacturing sector India needs to become a manufacturing hub before its competitive advantages in labour and cost are overtaken by new automation technologies that require fewer people to do the same work, says Wilfried Aulbur, managing partner at management consulting firm Roland Berger, and chairman, India Council on India has "a finite window (of time) to actually make it—manufacturing on a large scale for export—happen," Aulbur, managing director and chief executive of Mercedes-Benz India Pvt. Ltd between 2005 and 2011, said in an interview.
Aulbur, who has a Ph.D in physics and computational material science from Ohio State University in the US, also talked about the challenges for Make in India, Prime Minister Narendra Modi's ambitious initiative to turn India into a manufacturing powerhouse, and the role of new technologies. Edited excerpts:
It has been over a year since Make in India was launched. How do you assess the initiative?
I think Make in India has been positive in the sense that it has raised the issue about India becoming a manufacturing destination. It is positive in the sense that it can highlight the cost advantages the country has vis-à-vis China. It is important and some of that is happening at the state level now, where states are rolling out consistent policies and are executing those on the ground. That has to be taken further.
What are the main challenges for the Make in India vision?
There are a couple of challenges. One is that Make in India requires continued proactive government action on the ground and also a good marketing push to make people understand what India has to offer in terms of manufacturing. Second thing is that there is quite a bit of focus on manufacturing in the developed economies—Germany and the United States have initiatives that will revolutionize manufacturing and will reduce the amount of labour required for manufacturing.
Our opportunity for creating jobs may have a finite lifetime for export. Make in India for India is always an option, we also need to balance our focus—it is not all about technology, it is also about jobs, and jobs are created in construction, created in leather, in textiles, those industries require particular focus.
Can India become a manufacturing hub like China?
China became a manufacturing hub because people in the world preferred to outsource work to China to take advantage of labour cost. As Chinese wages are becoming more expensive people are looking at productivity enhancements. The window for attracting manufacturing work for exports is a finite window—maybe a window of another five years. The same thing is happening with the software industry, they are seeing the same situation now. As the software costs are going up in India, they (companies) are looking at productivity enhancements. That simply means that the same jobs are being done by less people, so basically we don't have the same situation as China in terms of becoming a manufacturing hub. We have a finite window to actually make—manufacturing in India on a large scale for exports— happen. It can become an export hub, but will require the right infrastructure, the right attitude, the right execution on the ground.
What are the key changes you have seen in electronic manufacturing after the government launched Make in India?
We have had some positive investment decisions like Foxconn, but we have to work towards getting more of these kinds of investments. We have to focus on both foreign direct investment and Indian direct investment; it has to be attractive for Indian companies to invest in it. We have to provide excellence in infrastructure, GST (goods and services tax), logistics infrastructure to make sure that all the costs that are burdening India at the moment are taken out. The reason is that you don't have a choice to have such a high imports on electronics.
While China has already started employing robots in factories, where do you see India when it comes to Internet of Things (IoT) that is revolutionizing industrial manufacturing?
Technology is a very important part, India has some real advantages. We have capabilities in software engineering, for example. Some companies are ahead of the curve where they have the capabilities, manufacturing powers and automation. But we still have companies that need to professionalize and need focus—and they are too small to invest in quality and training and they will never be valid members of the global scenario. We are seeing the technology being accepted widely and we have seen various applications of this, for example, integration of harvesters with tractors and micro farming.
This is just the beginning; this is going to be a very large revolution and it will take time.
Which industries are the early adopters of IoT?
Agriculture—tractor manufacture with harvester and combine manufacturers that are working on these technologies. You also see this in automobile manufacturers as they put more intelligence in their products. (We will) eventually arrive at an integrated system—it will not be happening overnight. We have to remember that labour cost as a component of the overall cost is going to be reduced, probably to the scale of 20%.
Hence the cost of advantages that India has will be hampered.
What is happening with the ancillary industries that are needed to create a complete manufacturing ecosystem in India?
There is definitely interest for ancillary industry to set up here, but we have to see if the interest can be sustained. Interest can be sustained if we have the right policies that are driving the right investments, creating the right environment and are also consistent. We have seen some action on the ground and we hope that it continues, it is necessary to push harder.
A lot of smartphone manufacturers are setting up shop in India. How do you see this industry shaping up? Do you see this creating an electronic manufacturing ecosystem in India?
It will depend on the market and with their business case. Business cases are highly influenced by availability of power, capability of distribution. The idea is to look at this holistically to allow manufacturers to produce rather than just assemble in India.
Are some states doing better than others in attracting investments from manufacturers? Do you see laggard states doing what the other more progressive states are doing?
It is a very healthy situation of competition within the states for investment. This forces the government to see what is working in Maharashtra, how can I get this in Gujarat, what is working in Tamil Nadu and how can we leverage something in UP (Uttar Pradesh) and Bihar. Some states have more educated people, some have built better connectivity to the world via ports—these are the developments that we see happening. It will have to happen. People desperately need jobs. Backward states will start to see their strengths.
If I look at Karnataka, you have strength in software, electronics and defense and it can push it systematically.
Other states like Maharashtra and Tamil Nadu that have strength in automotive, IT and consumer goods, will push what they are good at. You need to create clusters, ecosystems to really drive investments.
We just did a big investment in steel, in that the point was very simple—the client needed to know where is the ecosystem, where are the customers. These are very important criteria when you set up and drive investment and further investment.
Courtesy:Live MInt