Gateway Distriparks Q3FY21 Consolidated PAT UP 99.02% YoY to Rs 32.62 crore
Gateway Distriparks Q3FY21 Consolidated EBITDA up YoY 28.72% and 22.07% QoQ to 85.06 crores, PAT up 665.72% QoQ to Rs 32.62 crore
Gateway Distriparks Limited (GDL) a leading integrated inter-modal logistics facilitator in India today announced its unaudited financial results for the quarter and nine-months ended December 31st, 2020.
Other Highlights: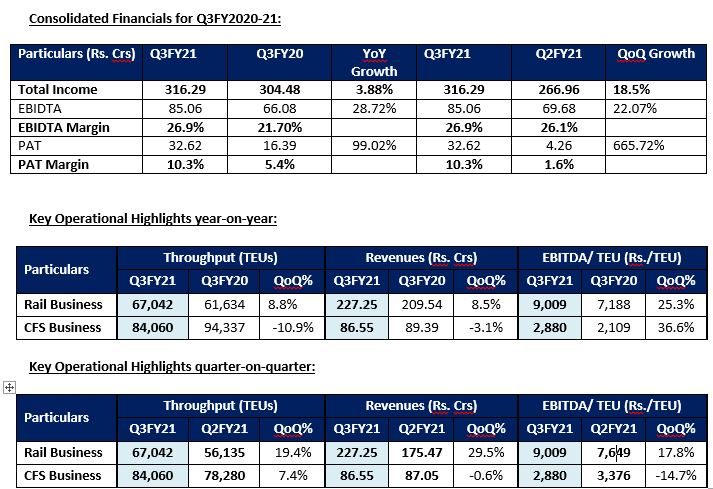 Commenting on the performance, Mr. Prem Kishan Dass Gupta, Chairman & Managing Director, commented,
"H1FY21 was impacted by COVID-19-linked disruptions, which had weighed on volumes particularly in Q1FY21. The revival in the EXIM trade has been much faster than anticipated. In Q3FY21, the company witnessed a sharp recovery in its overall volumes for both our CFS and Rail Container business. The improvement in volumes has been seen sequentially every month since the beginning of October 2020. In the month of December 2020, the company recorded the highest monthly throughput of 25,676 TEUs in Rail Container business. In addition, in the same month, the CFS business witnessed close to peak business with 30,085 TEUs.
306 km long Rewari-Madar section of the WDFC (Western Dedicated Freight Corridor) was inaugurated in the first week of January 2021, providing a quantum boost to the freight and logistics of the entire Northern India region. The Rewari-Madar section of the WDFC is situated in the states of Haryana (about 79 kilometres) and Rajasthan (around 227 kilometres). Our intermodal hub at Garhi Harsaru, Gurugram in NCR, is now connected to the Corridor. We became one of the first Intermodal operators to run our train on the newly inaugurated section of the WDFC. The transit time of our trains will reduce significantly, allow higher double stacking of containers and help to provide an even more reliable service to our customers through our North India ICDs at Garhi Harsaru, Faridabad, and Ludhiana.
According to DFCCIL (Dedicated Freight Corridor Corporation of India Ltd), the 335-km long Madar-Palanpur section of WDFC is likely to be commissioned by end of FY21. This will connect the key Gujarat ports of Mundra and Pipavav resulting in increased market share gains for Container Train Operators as against road transporters. This shall benefit us due to our multimodal capabilities to cater our customers who are increasingly demanding integrated logistics solutions.
With most lead industry indicators pointing to a strong demand revival, we anticipate continuous month-on-month momentum in growth of volumes for foreseeable future. Our core servicing sectors such as auto, white goods, steel, agro-products and other industries are witnessing a healthy traction in their businesses. A robust Balance Sheet combined with our strategically located infrastructure alongside the WDFC will help us to capitalize on the future growth opportunities."