The port discharges record of 156339 MT Non-Coking Coal in 24 Hours
Gangavaram Port, the deepest and the most modern port in the country, has created yet another historical milestone record by discharging 1,56,339 metric tons of Non-Coking Coal from the vessel M.V. Cape Asia in 24 hours. This achievement stands out as the fastest discharge rate in the history of any port in India & possibly in the world.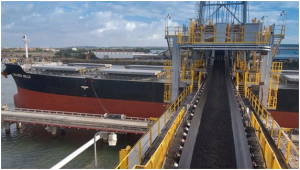 The vessel M.V. Cape Asia carrying 1,59,966 metric tons non-coking coal for Hindalco Industries called at  Gangavaram Port on 27th April , 2016. The entire vessel discharge was completed within just 27 hours.
Mr. Raj Dandu, Managing Director, Gangavaram Port Limited, stated that this record discharge rate yet again reaffirms the superior port infrastructure and operational efficiency at GangavaramPort.Gangavaram Port, in the past, has achieved numerous such operational milestones and has today redefined the port operational standards for the bulk cargo handling at Indian Ports. With 9 berths with upto 19.5 m water depths, GPL has handled more than 112 MMT of Cargo till March 2016.