The Indian Government is undertaking several initiatives to upgrade its existing infrastructure and enhance the quality of services provided. The Future Rail India Summit 2017 New Delhi India was successfully launched at the Hotel Sheraton New Delhi organized by Nispana Innovative Platforms featuring Industry experts and thought leaders to discuss the modernization efforts of the nation's largest public transport carrier.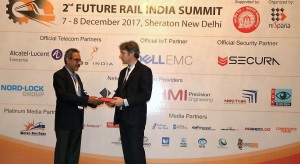 Over 150 participants witnessed visionary keynote presentations and case studies including Dr. Madhukar Sinha, Executive Director (Innovation), Railway Board, Mr. Rajiv Chaudhry, Advisor (Station Development), Railway Board, Dr. Deepak Tripathi, Chief Mechanical Engineer, Konkan Railways, Dr. Anirudh Gautam, Executive Director, SHRESHTA.
This immense gathering also featured solutions showcasing from technology providers like Alcatel Lucent Enterprise, DELL EMC as the official IOT Partner, Secura as the official security partner while, Nord Lock Group, Leroy Automation, Xtralis, IMI Precision Engineering, Nikitha, CGK Braille Signs are the Networking Solution providers There were intensive networking amongst the attending delegates, speakers and dignitaries. Metro Rail news feature as the Platinum Media partner in addition to other media partners.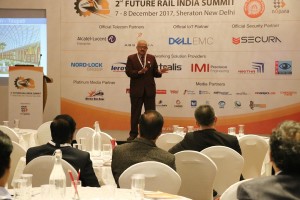 Second Annual Future Rail India Summit
The Second Annual Future Rail India Summit conference successfully concluded today at the Sheraton New Delhi. The two day high profile conference organized by Nispana Innovative Platforms with the theme of "Fostering the futuristic trends of National Rail Plan of Indian Railways" definitely paved a way for the establishment of the smart cities into a reality.
The participants witnessed multiple presentations, case studies over the past two days to understand the feasibility of implementing the latest innovation in Indian Railways.
There was very active participation from the senior representatives from the Railway Board, Railtel Corporation of India, Smart Cities Lab, Center for Railways Information Systems, Special Railway Establishment for Strategic Technology & Holistic Advancement (SRESHTA), High Speed Rail Corporation of India Ltd, Konkan Railways Corporation Ltd, Indian Railways Institute of Alternative Fuels, The Energy and Resources Institute (TERI). Some of the top corporate companies like Dell EMC, Alcatel-Lucent Enterprise, Lookman Security, Nord-Lock just to name few were part of the gathering.
The conference is conceptualized and developed by Nispana Innovative Platforms Pvt Ltd headquartered in India with offices in Dubai and USA.