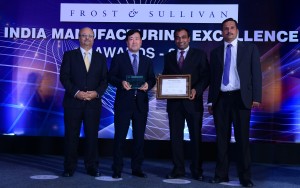 Frost & Sullivan announces its association with FICCI for the forthcoming India Manufacturing Excellence Awards (IMEA)
Hyundai Motor India Limited, Chennai receiving the 'Indian Manufacturer of The Year Award'
(Left to Right)- Mr. Aroop Zutshi, Global President & Managing Partner, Frost & Sullivan, Mr. Young Key Koo, Managing Director, Mr. Ganesh Mani. S, Vice President – Production and Mr. Gopalakrishnan C.S, Senior General Manager – Production, Hyundai Motor India Ltd
MUMBAI, India – 13th  December, 2016 – The 13th edition of the 'India Manufacturing Excellence Awards (IMEA) 2016' came to a spectacular close following the recognition of the best manufacturing companies in India at Hyatt Regency, Mumbai.  The event rounded off with the announcement of Frost & Sullivan's association with FICCI (Federation of Indian Chambers of Commerce and Industry) for 'India Manufacturing Excellence Awards (IMEA) 2017'.
Frost & Sullivan has been engaging with companies from the grass root level, while FICCI has been actively representing industry requirements to the policy makers, with the same objective: enhancing India's manufacturing competitive advantage. Moving forward, both organizations have partnered to drive the common agenda of propelling Manufacturing growth. Frost & Sullivan and FICCI will be jointly hosting "India Manufacturing Excellence Awards" henceforth.
"FICCI is happy to partner with Frost & Sullivan for Indian Manufacturing Excellence Awards. FICCI has been consistently working towards improving competitiveness and productivity of Indian manufacturing sector. The sector has the potential to be the engine of growth and create job opportunities for our burgeoning workforce. These awards shall help the industry to adopt best practices in the operation excellence, reduce wastages and achieve higher levels of growth" stated by FICCI.
India Manufacturing Excellence Awards (IMEA) was conceptualized by Frost & Sullivan with a mission "to recognize Indian Manufacturing capability and assess its global competitiveness" and has been the premier platform to identify Future Ready Factories in India.
"Manufacturing is the key driver of economic prosperity and creates more wealth than any other industry. The current challenges of low demand, increasing raw material, and labor cost require organizations to adopt advanced manufacturing practices to become efficient and remain competitive. Adoption of right technologies to take companies to next level of performance, efficiency, and quality will be crucial to sustenance" said Mr. Nitin Kalothia, Director, Manufacturing & Process Consulting Practice, Frost & Sullivan.
With a legacy of 12 years, Frost & Sullivan's IMEA has been one of the largest and most sought after on-site assessment and awards program in recognizing and benchmarking industries across all sectors and categories. Built on the strong foundation of the ever evolving Global Excellence Model and delivered through a robust, acclaimed, and constantly enhanced objective assessment process, IMEA is derived from global best manufacturing practices. The awards recognize the best in class innovation, success stories and stellar performances exhibited in the manufacturing industry.
Hyundai Motor India Limited – Chennai, was recognized with the "Indian manufacturer of the year award" followed by Mahindra & Mahindra Limited – Igatpuri and UltraTech Cement Limited – Vikram Cement Works winning the 1st and 2nd Runner-up positions, respectively.
This year's Manufacturing Excellence awards were presented to 27 companies under three major categories: Indian Manufacturer of the Year Award, Future Ready Factory of the Year Award and Gold Awards.
The 2016 India Manufacturing Excellence Award Recipients are:
S. No.
Award Title
Company Name
Facility Location
Certificate of Merit (COM)

Indian Manufacturer of the Year Award

1
Indian Manufacturer of the Year Award
Hyundai Motor India Limited
Chennai
Platinum Certificate of Merit
2
Indian Manufacturer of the Year Award – 1st Runner-up
Mahindra & Mahindra Limited
Igatpuri
Platinum Certificate of Merit
3
Indian Manufacturer of the Year – 2nd Runner-up
UltraTech Cement Limited – Vikram Cement Works
Khor
Platinum Certificate of Merit

Future Ready Factory of the Year Award

4
Future Ready Factory – Platinum Award | Automotive Sector, Mega Large Business
Toyota Kirloskar Motor Pvt. Limited
Bangalore
Platinum Certificate of Merit
5
Future Ready Factory – Platinum Award | FMCG Sector, Mega Large Business
ITC Limited – India Tobacco Division
Pune
Platinum Certificate of Merit
6
Future Ready Factory – Platinum Award | FMCG Sector, Large Business
Hindustan Coca – Cola Beverages Private Limited
Goblej
Platinum Certificate of Merit
7
Future Ready Factory – Platinum Award | FMCG Sector, Large Business
Johnson & Johnson Private Limited
Baddi
Platinum Certificate of Merit
8
Future Ready Factory – Platinum Award | Engineering Sector, Large Business
SKF India Limited
Pune
Platinum Certificate of Merit
9
Future Ready Factory – Platinum Award | Engineering Sector, Medium Business
Schneider Electric IT Business India Private Limited – IDF 4 and 5
Bangalore
Platinum Certificate of Merit
10
Future Ready Factory – Platinum Award | FMCG Sector, Medium Business
Johnson & Johnson Private Limited
Mulund
Platinum Certificate of Merit

Gold Awards

11
Gold Award | Automotive Sector, Mega Large Business
Eicher Motors – Royal Enfield
Oragadam
Gold Certificate of Merit
12
Gold Award – 1st Runner-up
| Automotive Sector, Mega Large Business
Tata Motors Limited – CVBU
Pune
Gold Certificate of Merit
13
Gold Award | FMCG Sector, Mega Large Business
ITC Limited – India Tobacco Division
Munger
Gold Certificate of Merit
14
Gold Award | Metal Sector, Mega Large Business
Bharat Aluminium Company Limited
Korba
Gold Certificate of Merit
15
Gold Award | Process Sector, Mega Large Business
Essar Oil Limited
Vadinar
Gold Certificate of Merit
16
Gold Award | Engineering Sector, Large Business
L&T – MHPS Turbine Generators Private Limited
Surat
Gold Certificate of Merit
17
Gold Award | FMCG Sector, Large Business
Hindustan Unilever Limited
Khamgaon
Gold Certificate of Merit
18
Gold Award – 1st Runner-up | FMCG Sector, Large Business
Hindustan Unilever Limited
Pondicherry
Gold Certificate of Merit
19
Gold Award |Pharma Sector, Large Business
Pfizer Limited
Goa
Gold Certificate of Merit
20
Gold Award |Pharma Sector, Large Business
Dr. Reddy's Laboratories Limited – FTO 2
Hyderabad
Gold Certificate of Merit
21
Gold Award | Process Sector, Large Business
Sterlite Technologies Limited
Waluj
Gold Certificate of Merit
22
Gold Award | Process Sector, Large Business
UPL Limited – Unit 3
Ankleshwar
Gold Certificate of Merit
23
Gold Award |Automotive Sector, Medium Business
Mahindra & Mahindra Limited, Plant 2
Nashik
Gold Certificate of Merit
24
Gold Award | Engineering Sector, Medium Business
Schneider Electric India Private Limited
Chennai
Gold Certificate of Merit
25
Gold Award – 1st Runner-up| Engineering Sector, Medium Business
KEC International Limited
Butibori
Gold Certificate of Merit
26
Gold Award | FMCG Sector, Medium Business
Food Creations Private Limited
Bangalore
Gold Certificate of Merit
27
Gold Award | FMCG Sector, Medium Business
GlaxoSmithKline Consumer Healthcare Limited
Sonepat
Gold Certificate of Merit