German based technology group will display its extensive range of products at India's leading auto fair
Germany-based global technology group Freudenberg will be participating at Auto Expo Component 2023, January 12-15. The Group supplies chemical specialties, filtration products, cleaning solutions to all major automotive OEMs in India through its subsidiaries with a R&D presence and fifteen production sites.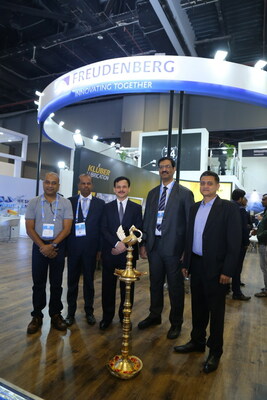 "India's automobile industry has developed over the past few years, offering a diverse selection of vehicles, including electric and premium models. We believe that as a global technology company offering cutting-edge products and services, we are a competent and reliable partner for a wide range of automotive needs. The Auto Expo Components 2023 gives us a unique opportunity to update visitors on our innovative technologies and latest product developments," said Georg Graf, Regional Representative of Freudenberg in India.
"Over the course of more than 60 years, India and Germany have successfully collaborated in each of our respective relevant fields. Working together in areas like energy, sustainable and climate-friendly urban development and transportation, the environment, the sustainable management of natural resources, and the protection of biodiversity have always been appreciated for their mutual benefits. Freudenberg, a global technology group, is contributing significantly to the long-term success of its clients. Over the past 90, the company has had business relationships with Indian companies," he said.
Innovation is a common thread throughout Freudenberg's successful history since 1849. Today, 50,000 employees work together on international projects and in diverse teams to make sure things remain this way. They often provide answers to the important megatrends of time, such as those in the area of mobility.
Five companies from four different Freudenberg Business Groups displayed their solutions together at the Freudenberg booth.
Klüber Lubrication & OKS Specialty Lubricants India has long pioneered the development of greases and oils for silent operation of machine elements. This has become increasingly valuable in modern electric vehicles which operate at extremely low decibel levels.  Adding to this, Klüber has developed the noise kit, now in its new 4th generation. The V4 Kit includes 20 product samples that substantially reduce the noise in vehicle interiors caused by undesired friction, stick-slip, insufficient damping or material compatibility. Auto manufacturers, suppliers and dealers have successfully used the kit as an engineering development tool and for in service warranty repairs.
Freudenberg Filtration Technologies India (FFTI), established in 2008, committed towards providing clean filtration solution to improve quality of Life stands firm. All the products for various industries like Industrial, Pharma, and Consumer have been upgraded with latest technologies & the Automotive Segment Products also keeps pace with growing demands from users and industry. The latest offerings like PM 2.5 filters, Anti allergen Filters, PM 2.5 + Antiallergen Filters, Activated Carbon Filters, Activated Carbon + PM 2.5 filters, Activated Carbon+ PM 2.5+Antiallergen filters and Fuel Cell Filters which is more towards the future, are being showcased in this event. Sole purpose is to create awareness among users considering the serious pollution issues within India & globally.
Corteco is the sales organization of the Freudenberg Group focused specifically on the Independent Automotive Aftermarket (IAM). They offer over 26,000 spare parts in OEM quality, supported by the research and manufacturing capabilities of the Freudenberg Group. Corteco has manufacturing plants / distribution centres in over 16 different countries, but through the Freudenberg Group, they reach customers in 60 countries around the world. Corteco adds flexible, aftermarket-oriented service and logistics to the excellent quality of the Freudenberg-NOK Sealing Technologies and continues to deliver innovative solutions at the highest level of Freudenberg Group.
Recently, Corteco had globally launched a wide range of sustainability projects involving 'green electricity', reduced paper use, and new methods of transport and packaging, and won a GROWTTH award. CO2 emissions have been reduced by many tons.
SurTec, a leader in the development of chromium (VI) replacements. SurTec will present the latest technologies for the automotive industry reaching from high performance industrial cleaning systems over best-in-class bare metal corrosion protection to high quality decorative layers on chromium (III) basis at the expo. With 25 years of expertise, recognised as a leader in this field, their novel high-quality technologies continue to evolve with the market. SurTec 883 XT is the original proprietary formulation achieving identical colour values to standard chromium (VI) and hence perfectly suited for automotive applications, where exact colour matches are required. In addition, the SurTec 88X-family covers a comprehensive palette of aesthetically appealing chrome colours ranging from blue bright to deep dark. SurTec 650 in combination with a gasket optimally prevents corrosive seal creep age of moisture into a battery compartment and ensures low electrical contact resistance. The technology also provides electromagnetic compatibility (EMC) and is hence the perfect solution for surface treatment of e.g. battery pack housings and Electronic Control Unit (ECU) housings. Due to its best-in-class bare metal corrosion protection, additional e-coating applications of the battery housing could be considered redundant.
Freudenberg Home and Cleaning Solutions (FHCS) The Company manufactures innovative professional cleaning tools for various application. Cleaning daily means of transportation is one of the toughest tasks and to add to the difficulty, these mostly smaller surfaces are made up of different materials, each of which requires an individual treatment. And finally, there are varying weather conditions that must be considered in the cleaning efforts: Summer and sun might require less cleaning than winter snow and slush, which makes the job especially tough. Based on these conditions, only the most efficient and ergonomic tools are suitable for the task. Vileda Professional provides the products, concepts and training to tackle the specific needs of transport cleaning.