Mr. Mayur Gandhi, Chief Financial Officer, Schenker India Pvt. Ltd opined as his wish list for the Budget 2018 since one of the reasons for this budget to be an important one is that –  it is the first budget after the implementation of the Goods and Service Tax.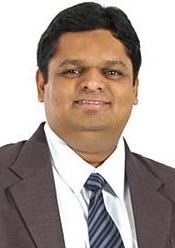 In the month of November, 2017, the Government has given the status of "Infrastructure" to the logistics sector. This will enable the sector to avail medium and long term debts at beneficial terms. This indeed was a welcome move for the sector where large scale investment was fragmented and driven by few investors. With the anticipated growth of the economy, the logistics sector will be key to bring down the Logistics cost from about 13 to 14 % of GDP to a lower level.
Tax holidays from direct tax for warehouses set up in rural area outside 50 kilometers of the specified city limits can be considered as an option in the budget as this will generate employment in the rural area and also will make it possible to create larger warehouses which will bring down the overall cost of logistics. The budget can also consider higher rates of depreciation being allowed on various warehousing infrastructure and handling equipment.
In the upcoming budget, the Government could consider allocating funds to augment the capacity and
infrastructure at the dry ports in India. This will support the ambitious "Sagarmala" project to be more effectively connected with the industrial town within India. There will be a need to monitor the growth and achieve efficiency of these ports. Post implementation of GST, it should be possible to reduce the number of dry ports.
The budget should allocate the funds to develop inland waterways for freight movement. There is a need for a long term plan, to be executed in a phased manner for the development of inland waterways for freight movement.
There is a need to develop skill sets for the effective management of future supply chains in the growing economy of India. Therefore we would like the budget to allocate funds for education and skills development in the area of logistics and supply chain.
Last but not the least, the Government could set up a committee to review the various Maritime Laws currently applicable in India. These Laws were framed several decades back and needs to be updated and aligned to meet the changing business scenarios in a growth market like India.