Sales of electric vehicles reached a record high last month, accounting for one in every 12 new cars purchased in the UK.
The Society of Motor Manufacturers and Traders (SMMT) said hybrid, plug-in hybrid and pure electric cars made up 8% of the overall market.
The number of total vehicles registered was up 23% on the same period in 2017.
But SMMT's chief executive warned "it would be wrong to view the market as booming".
"August is always a small month in new car registrations ahead of the important plate-change month of September," Mike Hawes said.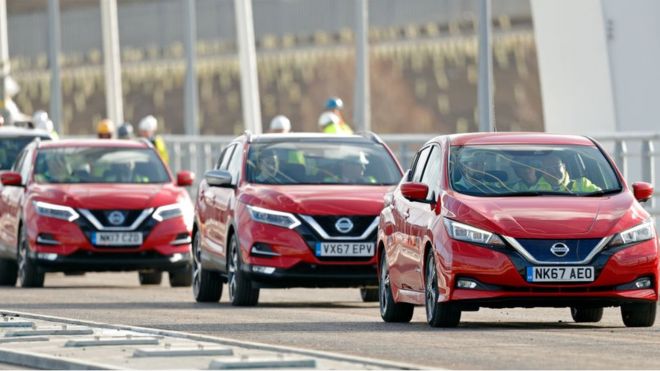 Last month 7,489 electric and alternative fuel vehicles were sold, up from the 3,968 sold in August of 2017. In total 94,094 cars were sold last month.
Mercedes takes on Tesla with electric SUV
While calling the surge in electric sales an "extraordinary achievement", Ian Gilmartin of Barclays urged caution, alluding to the fact that the British car industry has had a bruising few months, suffering from a 4% decline in sales so far this year.
"Regulatory changes that came into force at the start of September led to some very generous deals being offered in August which will have brought sales forward," he added.
"All eyes will now be on next month's data."
The boom in plug-in sales comes as the cost of petrol and diesel continues to creep upwards, with the average price at the highest level since July 2014.
Pump prices have gone up for eight of the last 12 months, according to the RAC, with both fuels 13p more expensive than this time last year.
Electric boom
Sales of electric vehicles have been taking off across Europe, with more than a million plug-ins now on the road, according to figures by EV Volumes.
Norway, where hybrids and electric vehicles make up 37% of sales, has been leading the way, followed by Germany.
A raft of energy efficient cars are due to be produced in Europe in the coming months.
Daimler-owned Mercedes has just unveiled its first fully-electric vehicle, while Porsche, Audi and Jaguar all lined-up to produce competing luxury models
courtesy: BBC News