Leading integrated logistics player Allcargo Logistics' fully owned international subsidiary ECU Worldwide, has appointed top DHL executive Claudio Scandella to drive the next phase of its growth as the Chief Executive Officer (CEO).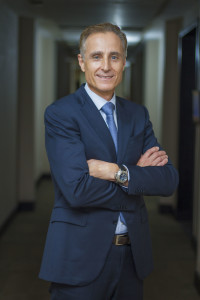 Mr. Scandella was a member of the DHL Global Forwarding senior leadership team as the CEO of their Middle East, Africa & Turkey Region. He will be initially based in India for a short period to familiarise with group activities.Four regional CEOs of the global firm, having presence in over 160 countries, will report to Mr. Scandella as part of the strategic overhaul of the senior management structure.
Founded in 1987 at Belgium, ECU Worldwide (erstwhile ECU-Line) is one of the  global leaders in NVOCC services and the biggest LCL (less than container load) consolidator in the world. India's largest integrated solutions provider Allcargo Logistics Ltd, acquired the company in 2006 and consolidated its global footprint with over 300 offices.
"ECU is an important subsidiary of the Company. Globally, it is considered one of the world's largest NVOCC in terms of geographical presence and volumes carried, which is systematically handled, largely through our its offices. We plan to take it to the next level of growth through digitalization, tapping into new markets and areas, including diversification of our offerings. We are strengthening the top management to drive this new phase in line with the emerging opportunities," Dr Shetty said.
"ECU Worldwide is committed to setting new benchmarks of operational excellence and customer satisfaction. A global multinational in its true sense, we are privileged to be one of the few global companies owned in Mumbai, India. Claudio has the experience, the foresight and the vision to set the company on a higher growth path in alignment with our core values and objectives," he added.
One of the top logistics executives in the global circuit, Mr. Scandella brings on board over 30 years of industry experience, having held senior positions with different logistics firms across different geographies. He spent more than 10 years in regional and global positions with DHL before joining ECU Worldwide. Backed by his in-depth understanding of key customer issues and global experience, he will create a sustainable road map along with the existing leadership team for future business growth and development, with a customer-centric business model.
"ECU Worldwide has set its own benchmarks in operations, with its strong values and capabilities. The changing global scenario still offers potential to tap further and this will make my journey with ECU challenging and exciting at the same time. I will be working closely with Dr Shetty and the team to leverage technology to bring in efficiency for customers as well as for internal processes," said Mr. Scandella on his new role.