Driving towards a Sustainable Future: Harnessing the Potential of the Indian CV and Road Transport Industry
The Commercial Vehicle Forum (CVF) team is proud to announce that the largest event in the nation focused on Commercial Vehicle and Road Transport Innovation has gone live with the theme: "Driving towards a Sustainable Future: Harnessing the Potential of the Indian CV and Road Transport Industry".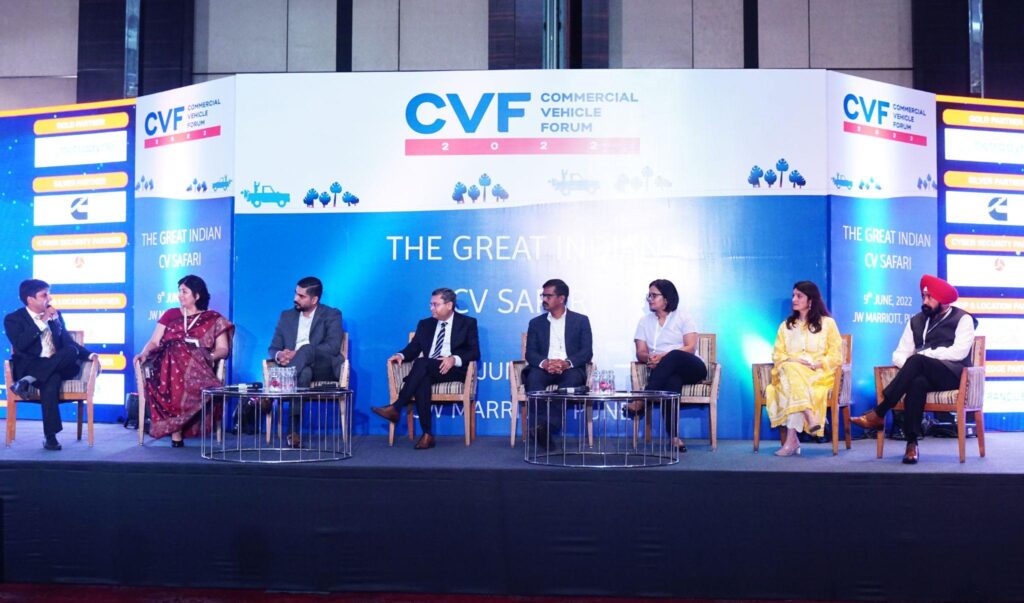 CVF 2023 will take place on 25th May at J.W Marriott, Pune, and will bring together industry experts, thought leaders, and innovators to discuss the latest developments and share insights into the future of CV and road transport technology.
The CV and road transport industry is constantly evolving, with new technologies and innovations emerging all the time. From autonomous vehicles and electric powertrains to telematics and logistics optimization, there are countless opportunities for businesses in this space to improve efficiency, reduce costs, and deliver better outcomes for their customers.
At the event, attendees will have the opportunity to hear from experts about their experiences and insights, and connect with other industry professionals from around the world. With a full day of keynote presentations, panel discussions, and networking opportunities, this event is the perfect opportunity to gain a competitive edge in this rapidly evolving industry.

Since 2016, CVF has grown to welcome over 60+ speakers and 500 attendees, and has been labelled as "NOT TO MISS event for the Indian CV Sector". In fact, for the upcoming 7th Edition, Shri Nitin Gadkari, Hon'ble Union Minister of Road Transport & Highways, Government of India is the Chief Guest & Mr. Rajendra Petkar, President & CTO, TATA Motors is the Chairman.
Some of the other speakers who are joining include: Mr. Shankar R, CEO, TVS Supply Chain Solutions Limited India, Mr. Amit Sagar, Executive Vice President CV Domestic Business (ICE) & Retail Finance, Piaggio Vehicles Pvt Ltd., Mr. Siddharth Kirtane- AVP, DICV and Head of Marketing and HQ Operations, BharatBenz, Mr. Rajesh Mishra, Senior Vice President (Corporate Processes & IT), VE Commercial Vehicles, Mr. Kaushik Narayan, CEO, Leaptrucks, Ms. Ujjwala Karle, Deputy Director, ARAI, Mr. Anurag Dubey, Sr VP & COO, IPL Tech Electric, Mr. Gopi Sankar M, VP – Advanced Engineering, Ashok Leyland, Mr. C S Vigneshwar, Vice President, FADA, Ms. Sulajja Firodia Motwani, Founder & CEO,
Kinetic Green, Mr. Amitabh Saran, Founder & CEO, Altigreen Propulsion Labs,Mr. A Rama Subramanian, CTO, Blue Energy Motors Limited, Dr. SS Gupta, Advisor (Technical), Ministry of Petroleum & Natural Gas, Government of India and many more.

"We're thrilled to be hosting this event that has become the crossroads for senior level professionals from CV Manufacturers, Auto Suppliers, Associations, CV Dealers and the Government, alongside some of the worlds' most disruptive Logistics Service Providers" said Rohit Dewan, Portfolio Director, CVF. "As the industry continues to evolve, it's more important than ever for businesses to stay on top of the latest trends and technologies. We believe this event will provide invaluable insights and opportunities for industry professionals, and we can't wait to see the impact it will have on the industry as a whole."