DP World provides patrolling vehicles to Tadoba-Andhari Tiger Reserve Conservation Foundation
~This initiative will help protect the frontline staff and intensify patrolling~
Keeping up with the commitment to protecting wildlife and conserving nature, DP World, a leading provider of worldwide smart end-to-end supply chain logistics, has recently provided two patrolling vehicles to the Tadoba Andhari Tiger Reserve Conservation Foundation to help strengthen patrolling within the forest area. The patrolling vehicles were handed over at an event at the Forest Office at Tadoba Andhari Tiger Reserve, by Mr. Kevin D'Souza, Director – Commercial & Business Development, DP World Subcontinent and Mr. Jibu K. Itty, CEO, DP World Nhava Sheva.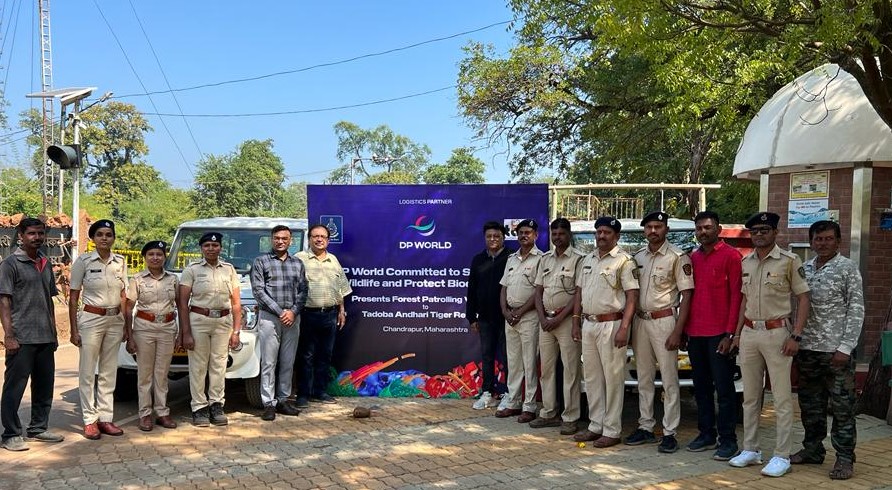 The Tadoba Andhari Tiger Reserve is home to at least 80 tigers, with over 200 tigers in the wider area. It is known for having the fastest growing tiger population in the country, The frontline forest patrolling staff is engaged throughout the day for effective monitoring and travel on foot in small groups. With the reserve spread over 625.4 square kilometres, forest personnel also travel to remote locations within the forest area on two wheelers.
With the additional patrolling vehicles, the frontline personnel will face lower risk while discharging their duties and can intensify patrolling effectively. Furthermore, this will also improve patrolling capabilities at the tiger reserve and will play an important role in the prevention and early detection of forest fires and help reduce human-wildlife conflict.
Mr. Jitendra Ramgaokar, IFS Field Director, TATR and Executive Director TATR Conservation Foundation said, "We would like to thank DP World for their support of new patrolling vehicles which will enable our frontline staff to monitor remote areas of the reserve more safely and help protect the natural heritage of the Tadoba-Andhari Tiger Reserve. This will also help prevent illicit acts in and around the forest area".
Commenting on the occasion, Kevin D'Souza, Director – Commercial & Business Development, DP World Subcontinent said, "At DP World, we are committed towards the protection of wildlife and biodiversity. We believe Tadoba's conservation success is owed to the efforts of the frontline staff, who work 24×7 to protect the wildlife. For us, the safety of Tadoba's staff working under risky conditions to protect wildlife and wild habitats, is of paramount concern. Supporting the reserve with the patrolling vehicles will enable the staff to work safely in remote areas with confidence".
DP World is also a part of an industry taskforce led by United for Wildlife that aims to tackle the tragedy of illicit wildlife trade by joining hands with integral stakeholders. The company has signed 11 commitments to cover initiatives that prevent transportation of illegal wildlife products and has pledged to do everything in its capacity to stop illegal wildlife trade.