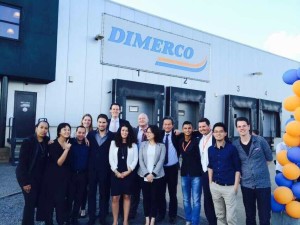 Satisfying the enormous appetite for quality designer US apparel in China, the world's biggest and fastest growing online market, Taiwan based freight forwarding and logistics specialist Dimerco is transforming fashion logistics to perfect the customer experience in preparation for the e-Commerce shopping festival, Double 11.
Employing its innovative IT integration capability and forming solid relationships with reliable last-mile carriers, Dimerco is working with Revolve Clothing, a well-known Los Angeles based luxury clothing & accessories brand to enable online consumers in China and Hong Kong to enjoy a comprehensive shopping experience with faster, trackable delivery of their goods.
Dimerco leads the way in establishing a new B2B2C business model which offers a 30% saving in freight costs and relies on the close co-operation between online fashion retailer, freight forwarder (Dimerco) and local couriers.
As Mr. Edward Lin, Dimerco Express Group CEO explains:  "e-Commerce in China is growing at an incredible rate and we could see that fulfilment and customer satisfaction were key areas for improvement, particularly over the final mile. Online customers in China no matter where they are located, are beginning to demand the same service shopping experience as their global counterparts so we began to look at the entire logistics process from the location of our warehouses to making relationships with reliable carriers and of course, for customers, providing that single point of contact for queries, complaints and feedback."
From its HK warehouse Dimerco provides a quick turnaround service with 800 packages a day processed in 2 hours before hand-over to local couriers. Harnessing the latest EDI technology, customers can easily track their deliveries online.
This fashion logistics model will put Dimerco's client in a strong position for Double 11 which according to one of the largest online retailer in China, JD.com, typically witnesses a threefold increase in the number of shipments and sales of imported goods to keep pace with consumer demand.