DHL opens India's first integrated warehousing facility in Bengaluru
New facility reduces end-to-end transit time and supply chain costs
The 77,500-square feet GST-ready site will facilitate ease of trade in India's IT Hub and surrounding areas
DHL Global Forwarding, the air and ocean freight specialist within Deutsche Post DHL Group, today inaugurated the country's first integrated warehousing site in Bengaluru to provide both Customs Bonded and Domestic warehousing (CBD) solutions.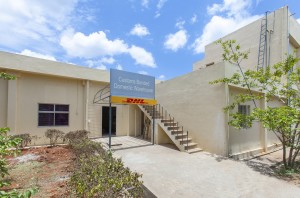 With an investment of INR 7.5 crore (Euro one million), the state-of-the-art facility is an appointed Customs Public warehouse with a domestic area for storage, sales and distribution of goods. It functions as a duty free zone and comes with a value creation area that enables labeling, packaging and repacking services. The warehouse has been set up to ensure the seamless handling, storage and movement of imports with an option to re-export. Customers will also benefit from the GST-ready warehousing space at the facility for cargo cleared for home consumption and indigenous goods. This innovative solution will bring synergies in processes, equipment and people in both areas of the warehouse, thereby increasing time and cost improvements for customers.
This offering supports DHL's brand promise: 'Excellence. Simply Delivered' and will further complement DHL Global Forwarding's portfolio of international freight and landside services.
All industry verticals including Automotive, Engineering & Manufacturing, Fashion & Apparel, Retail & Duty Free Shops, Life Sciences & Healthcare and Technology can benefit from this unique solution. The CBD is well equipped with a Warehousing Management System (WMS), ISO documented processes, and Transported Asset Protection Association (TAPA) for both areas and adheres to the highest security standards which include motion sensors, fire alarm systems, CCTV and access control.
Located in Kasaba Hobli within 22 km of Bengaluru International Airport and 25 km from the Inland Container Depot, the single site facility is equipped with multi-user benefits to increase speed and cost efficiencies.
Bengaluru is one of India's most dynamic cities and a major trading hub driven by technology and innovation. With the presence of leading IT players, several multinational and retail brands,
Bengaluru also handles huge volumes of imports. According to statistics published by custodians, Bengaluru airport handles close to 84,000 MTs of air imports per annum. Given its strategic location, it can impact close to 120,00 MTs per annum, taking into account the catchment areas in surrounding Tamil Nadu and Kerala. The unique combination of customs bonded and domestic warehousing facilities under one roof offers import customers the convenience and ease of doing business in this thriving city.
On the occasion of the launch, George Lawson, CEO, DHL Global Forwarding India said, "As the trade facilitator for India, this new facility demonstrates our commitment to customers in the Indian market. Simplifying customer trade is our passion and we are excited to pioneer customs bonded warehousing solutions for the first time in India."
Amit Dawar, Director, Value Added Services, DHL Global Forwarding India added, "This warehouse will help meet the demands from customers owing to the lack of bonded facilities near Bengaluru airport. It will also help reduce turnaround time by up to two days, decrease multiple handling with its associated risks and reduce costs, while providing consolidation of domestic and imported goods."
DHL Global Forwarding is the global market leader in air and ocean freight, customs brokerage and industrial projects. Offering a range of value-added services, DHL Global Forwarding provides significant benefits for customers including greater geographic spread, product and service leadership, and enhanced offerings to meet all their logistics requirements. With 44 locations across 27 cities, DHL Global Forwarding India's network spreads across thriving business hubs to sprouting industrial centers covering the length and breadth of the nation, and is present in all the major sea and air ports in the country.
————————