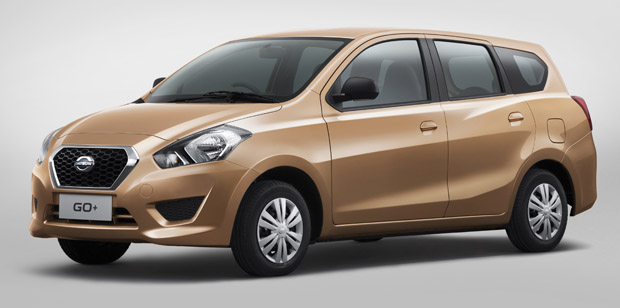 Datsun continues to unveil models developed for its key launch markets and  introduces a second all new car, developed  for Indonesia – Datsun GO+
Datsun confirms the introduction of another new model – Datsun GO to Indonesia in 2014
Both distinctive and practical Datsun GO+ and agile Datsun GO will be priced below 100 Million Indonesian rupiah
Datsun GO+ will create an all-new segment in Indonesia, being the only model with three rows of seats in this price range
Both cars will be produced at Nissan Motor plant in Purwakarta, Indonesia
Mumbai, India (September 17, 2013) — The Datsun brand is expanding its global footprint rapidly with today's world premiere of the all-new Datsun GO+ in Jakarta.  Datsun also confirmed that the Datsun GO hatchback will become the second product in the brand's Indonesian range from 2014, with specific tailoring for the needs of Indonesian customers. Today's world premiere represents the Datsun model line-up debut in Indonesia.
"With the return of the Datsun brand, we are changing mobility. And we're ensuring greater access to the pride, independence and opportunities that car ownership provides. It's exciting to know that, for many Indonesians, the first new car they buy will be a Datsun", said Carlos Ghosn, Nissan Motor Co., Ltd. President and CEO, unveiling the cars.
The Datsun GO+ is a 5+2 MPV developed as a move-able cozy family lounge able to accommodate all family members in one car for the journey.
It is a modern distinctive car with sleek, dynamic silhouette and strong shoulder line. The clean and robust body styling will undoubtedly make it stand-out from the crowd. With its compact dimensions, the car is versatile and practical five-door three-row MPV with smart front-seating configuration. Depending on the family-customers' needs, the new Datsun GO+ will offer extra two seats in the back or an additional cargo space.
The car will be offered with Datsun Mobile Docking Station – the practical solution of smart-phones integration into the car.
The light-weight Datsun GO+ is equipped with a 1.2L engine and 5-speed manual transmission, tuned for fuel efficiency and good acceleration, whilst delivering agility on congested roads. And, its suitability for demanding city conditions is reinforced by its compact dimensions, with an overall length of 3,995 mm, width of 1,635 mm and a height of 1,485 mm. Its wheelbase is 2,450 mm, the key to its spacious interior.
The name of the car – Datsun GO+ – clearly highlights its membership of the new Datsun family, but at the same time refers to its extended capabilities. Central to Datsun's philosophy is the principle that the cars' development and refinement is to be carried out by the engineers in the region following a careful study of the needs, lifestyle and driving patterns of local customers. The entire development process has been undertaken using the same processes and best practices to meet Nissan Motor's global technical standards.
By offering two models Datsun not only opens the door to personal mobility to a wide number of the up-&-coming families who will now be able to realize the dream of owning a new and modern car, but moreover creates a choice of practical 5+2 MPV or agile five-door hatchback without sacrificing any important features & qualities.
With launch of these two cars onto Indonesian market, the Datsun brand aims to account for up to 50% of the total Nissan Motor sales in 2016 in Indonesia and contribute to Indonesia's continued motorization and the governmental initiative aimed for boosting of domestic vehicles and components' production and introduction of accessible and eco-friendly cars in Indonesia. Both cars will be priced below 100 Million Indonesian rupiah – a price point where very limited propositions exist at the moment.
As in all other markets where Datsun will be launched, the customers in Indonesia will get a worry-free ownership experience at competitive total cost, as well as accessible and transparent services.
Both Datsun GO and Datsun GO+ for the Indonesian market will be locally produced at the Nissan Motor plant in Purwakarta, 80 km east of Jakarta, Indonesia and will go on sale during 2014.
About Datsun
Nissan Motor Co., Ltd. announced the return of the Datsun brand, Nissan's third global brand, alongside Nissan and Infiniti, in March 2012. Datsun will provide a sustainable motoring experience to optimistic up-and-coming customers in high-growth markets. Datsun represents 80 years of accumulated Japanese car-making expertise and is an important part of Nissan's DNA. Datsun vehicles will start sales in India, Indonesia, Russia and South Africa from 2014.
About Datsun History
Datsun originated in Japan as DAT-GO (the DAT-car) almost a century ago in 1914. The word DAT means 'lightning-fast' in Japanese but is also a reference to the first letters of family names of the three financiers who supported the business at the time: Den, Aoyama and Takeuchi. Using the same logic, it was promoted as Durable, Attractive and Trustworthy, or DAT for short.
In 1933, Nissan's founding father Yoshisuke Aikawa took over the business with a vision of "mobility for all". The introduction of a light-weight, economical yet resilient car to meet the aspirations of young Japanese people in the early 1930s was named the 'son of DAT' – Datson – which later changed to Datsun. Local engineering and mass-production made the founder's dream a reality.