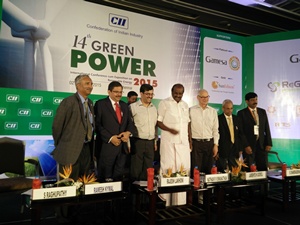 14th Green Power 2015, was inaugurated by the Hon'ble Minister for Electricity and Prohibition and Excise., Mr.Natham R.Viswanathan, who elaborated the august audience how the TN Govt. , under the able guidance of our Hon'ble CM, who has the vision of making TN a numero uno position for the renewable energy and how the Govt. is managed to win over the power crisis, despite the shortage of power. The International Conference cum Exposition on Renewable Energy viz,., The 14th Green Power 2015, was organized by Confederation of Indian Industry (CII) in Chennai on 2nd July 2015. Mr. Rajesh Lakhoni, Agricultural Production Commissioner & Secretary to Government, insisted that every house-hold should have a solar panel – thus helping the Govt. to
achieve the power crisis free State, in the months to come. He further said that the state was offering Rs 20,000 as subsidy to install one unit of rooftop solar panel. Also, the Union Ministry of Renewable Energy is providing 30% subsidy. Mr.S.Chandrasekar, Chairman Energy Sub-Committee, CII – SR, Mr.Ramesh Khymal,
Chairman, Renewable Energy Council for Green Power 2015 welcomed the gathering.
Your Editor pleads forcefully, with the slogan,
Photo Voltaic Solar for roof -tops of villages, towns, cities and metros,
Thermal Solar (CSP) in deserts, barren areas and waste lands, where not even a blade of grass grows.
Special News: 1st Seminar on Transport Meet 2015 and Green India On-line, by September !
Ring up: V. Ravi 9840950196 or mail: ravi@ecargolog.in www.ecargolog.in
—————————————————————————————————————————————
Green India, 14/4 North Mada Street, Srinagar, Chennai 600015 9383777665 / 9840950196 ravi@ecargolog.in