Start-up aims at replicating the most successful business model
Even in today's age, when a couple of taps on the phone are all you need to get food at your doorstep, the 'dabbawalas' of Mumbai remain legends. The enormously successful business model, marked by highly efficient food delivery to thousands via cycles and suburban trains, has not only been studied by management students, but is also a cultural phenomenon with books and at least one famous recent movie focussing on it.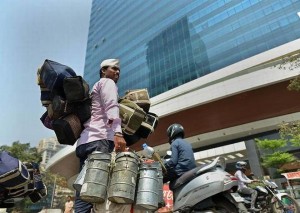 Chennai Dabbawala as it is called has been launched in the first week of October by L. Deva. Having nil knowledge about the working of the Dabbawalas of Mumbai, Mr. Deva who is the proprietor of Chennai Dabbawala, does not find it a shortcoming in launching the food box delivery in the city.
The Computer Science graduate having had a hand in courier service in Guindy finds food delivery an extension of it. He said Chennai Dabbawala has been launched with the motto: 'Delivered on time, each time'.
At present the business is being promoted through social media such as Facebook (@ChennaiDabbawala) and word of mouth of their courier clients. Mr. Deva said: "Already we have a number of clients particularly north Indians who prefer home-cooked food being delivered fresh and fast."
Mr. Deva said the lunch box delivery rate for the first three km is Rs.600, for three to six km  Rs.700 and for six to nine km  Rs.900.(Courtesy:The Hindu)