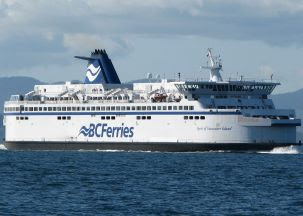 'Spirit of Vancouver Island' is one of two ferries being converted to LNG. Photo: KenWalker
Canada's BC Ferries is to convert its two largest vessels, 'Spirit of Vancouver Island' and 'Spirit of British Columbia', to environmentally-friendly dual-fuel in a bid to save on costs.
These conversion plans follow the company's announcement in July 2014 that it will build three intermediate-class dual-fuel vessels for deliver in 2016 and 2017. BC Ferries says its expects total savings LNG for the five vessels to be around CAD$12 m (US$10.7 m) per year, based on current fuel price estimates, which will significantly reduce upward pressure on fares.
"We are well aware that fare affordability is a concern for our customers and operating on LNG, which is approximately 50% cheaper than marine diesel, is a game changer for BC Ferries," said Mike Corrigan, president and CEO, BC Ferries.
"We have been driving a culture of cost containment in many areas of our business without compromising safety and we are moving forward with LNG conversions, which will help us realize significant environmental benefits and enormous financial savings on our fuel bill," he added.
The company spent CAD$126 m (US$112.8 m) on fuel last fiscal year and the two Spirit-class vessels consumed around 15% of the fleet total. BC Ferries says these are the largest consumers of fuel in its fleet and so it believe this conversion will reduce their cost of fuel be approximately half.
In addition, the projects will implement measures to reduce fuel consumption. A new low friction underwater coating will reduce hull drag, reducing total fuel consumption by around 2.9%.
The existing hull design will also undergo some changes to its design to further reduce drag. As a result, drag is expected to be further reduced which will further lower fuel consumption by up to 1.8%. These fuel efficiency initiatives are expected to generate CAD$650,000 (US$582,000) of the fuel savings annually.
BC Ferries is planning for the Spirit of Vancouver Island's mid-life upgrade and LNG conversion to be completed by spring 2017, and Spirit of British Columbia's by spring 2018.
Courtesy:LNG Ships & Terminals