AshokaBuildcon, one of the leading highway developers in India, conducted a Road Safety Awareness programme across its road projects in Maharashtra, West Bengal, Orissa, Karnataka, Tamil Nadu, Madhya Pradesh and Chattisgarh.
Marking its 23rdAnniversary Celebration,Ashoka Buildcon, dedicated its annual day celebrations towards road safety and conducted various activities to promote road safety at its project sites and toll plazas.
The employees of the Company took an oath to become 'Brand Ambassadors for Road Safety' by encouraging the people around them to wear helmets while riding motorcycles and seatbelts while in cars.
AshokaBuildcon Limited will be distributing 1,150 helmets to road users through its employees and the inauguration of this drive was done at Nashik, in the presence of Shri Ravindra Singhal, the Commissioner of Police, Nashik.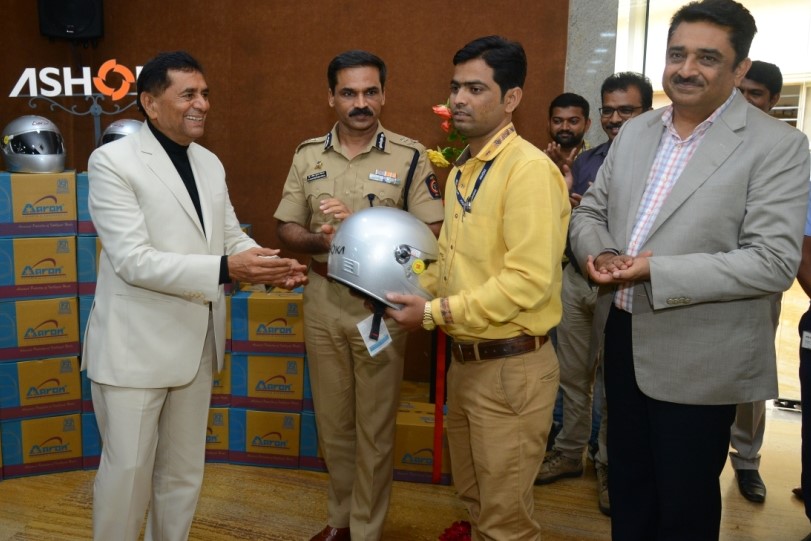 Mr.Singhal enlightened the audience on the importance of Road Safety. He said that it is very disappointing to see that citizens of our Country are so obedient towards traffic rules when they are abroad, but in India, they are so reluctant to follow the same. He was happy to share that the Police department all across the Country is trying to improve the situation through enforcement as well as counselling of road users. The results are encouraging and the number of Helmet Users has increased significantly in Nashik.
Mr.Satish Parakh, Managing Director of Ashoka Buildcon Ltd, presented the welcome address where he said, that "Every single life lost due to a road accident is a loss to the Nation. We being one of the leading highway developers in the country have always taken road safety as a serious issue. We believe that while spreading road safety awareness amongst people will make a difference in the long run, we will need to support the this awareness drive by strict enforcement of traffic rules. After all,  even  a small piece of casual behaviour can result in major fatalities on the road."
Says Ashish Katariya, who spearheads  Ashoka's Road Safety Campaign-  "We wish for India to be a Country with Zero Deaths due to road accidents. Not wearing helmet has caused many deaths and the situation needs to be improved. We are certain if the Corporate world works together with the administration, this wish can be made a reality.The concept behind distributing helmets is that in the current scenario helmet is an ideal gift for any road user. This gesture is focused on people who do not wear helmets and we believe that this will encourage them to change their attitude towards the issue. With over 1000 members of the Company's work force working as 'Road Safety Brand Ambassadors' across India, we believe that we will be able to convince millions of people to respect road safety. "
The Company also conducted safety drive at its 14toll plazas in a different part of the Country, through which thousands of travellers pass by every day.The Company's toll employees gifted rose flowers and chocolates to riders wearing helmets as a token of gratitude for respecting traffic safety. They urged helmet-less riders to wear it every time they are riding a bike or seated as a pillion rider.A similar exercise was done for car users where the use of seat belts was propagated.
Dignitaries present during the event include Mr.Ashok Kataria, Chairman and other Directors of AshokaBuildcon Limited including Mr. Sanjay Londhe, Mr.RajendraBurad, Mr.NarendraShakadwipi etc. Mr.VyomShrivastava, Head of Corporate Communications, coordinated the event.