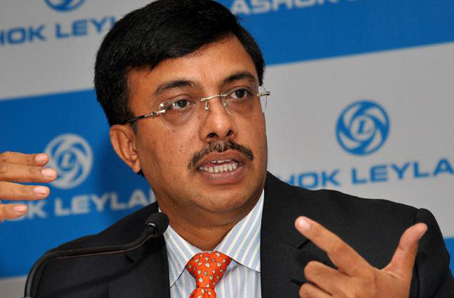 In an interview with CNBC-TV18, Vinod Dasari, MD, Ashok Leyland and President of auto body SIAM, talked about the sales outlook ahead of the festive season and business in general.
Below is the verbatim transcript of Vinod Dasari's interview to Ronojoy Bannerjee on CNBC-TV18.
Q: Do you see a turnaround as far as the capex plan of the auto industry is concerned because festive season is here, everybody seems bullish but we are seeing capacity utilisation is still far away from 80-90 percent that we have seen in the past?
A: The capacity utilisation is coming up. It is different sectors, last three-four years it was the heavy sectors that did very well. Now you are seeing the light commercial vehicle doing very well and with this festive season, it will do even more. We won't reach 100 percent capacity utilisation but I think we will reach 80-90 percent utilisation if this continues for at least next six months.
Q: What are your friends telling you within the industry? How are they looking at the festive season, could this be one of the better ones that we have seen in recent memory?
A: Looks like it. Everybody has got a lot of inventory that they have moved to the dealer end. There is lot of retail happening. October end is Diwali, so hopefully there will be a lot more optimism as we move this one forward.
Q: Some of the commercial vehicle manufacturers have been telling us how many people are dealing the purchases of trucks and buses because they expect up to a 10 percent price reduction when the goods and services tax (GST) comes in? Are you seeing that on the ground as far as Ashok Leyland is concerned?
A: This is probably the most uncertain time. We used to be called a cyclical industry, then it was called volatile industry, now it is an uncertain industry, but it is exciting. April 2017 is a seminal point. You will have BS4 regulations nationwide for the commercial vehicle industry. At the same time, there is likelihood of GST. If there will be a pre-buy for BS4 in the last quarter and already starting now, if GST happens then the pre-buy won't be as large but there will still be some pre-buy. But if the GST is not happening, there will be a huge pre-buy. So we are planning both ways to be nimble footed that if GST does not happen then there will be a huge pre-buy and there will be a complete downturn in Q1. Nobody will buy once the BS3 vehicles are being pre-buy then they won't buy till the GST comes. So everybody is on tenterhooks waiting to see the government should announce the GST and announce the rates. I have written as SIAM President to the Finance Minister after this SIAM executive committee got together and we had a consensus on the rates and proposed the rates to the government already. So hopefully, it will come by April 1 and it will be as per the rates that we have suggested.
Q: CEOs are telling me off-record of course that there is concern within the auto industry over the treatment of luxury vehicles as a de-merit, to be treated at 40 percent and higher de-merit rate, which of course we don't know what the rates will be but that is according to the Arvind Subramanian panel, how big a concern is that?
A: I don't know if you would call anything with a de-merit. What we have suggested is let us keep things simple rather than have several slabs and several different kinds of taxes at several different rates, we have said there is a standard rate, which applies to most of the small cars and small commercial vehicles and all of that and then there is a plus 8 percent for all these vehicles, which are luxury vehicles and a proposed minus 8 percent for hybrid and electrical vehicles, which are good for the environment. It is very simple, they can choose the standard rate based on whatever is the tax environment for the country is.
Q: Now with the Indo-Pak tensions, will businesses have to take geopolitical risks into account and factor that in their business models and their business forecasts also?
A: I don't think this Indo-Pak thing is going to affect business as much.
Q: Because we saw the day when the surgical strikes happened, the market reacted sharply, the markets were down at over 500 points. So there was a bit of concern it seems among investors?
A: For the automobile industry, I doubt there will be any impact and I don't think the automobile industry per se is worried about it. We are on our own — we are the largest supplier of logistics vehicles to the armed forces, we have put in teams of people on our own without any commercial interest to go out there to every army service camp and service these vehicles so that they are battle ready. Defence is a business which has got a lot of romance, lot of sense of pride in it and if anything defence requirement will go up, so we don't expect a war, we don't hope for a war but if that is there, I am sure India is prepared.
Q: Allow me to ask you couple of questions on Ashok Leyland's proposed merger with merging of Hinduja Foundries. There has been a lot of investor concerns and many are wondering that your policy over the last couple of years has been to exit from your noncore business and focus on the core business, are you diluting that vision that you have?
A: The heart of a truck is an engine. How the engine performs and how the engine will perform in future when it goes from BS4 to BS6 in a matter of three years, nowhere else it has been done in the world. Engine will define how a company performs. For an engine, you start everything from casting all the way to exhaust after-treatment system. We have a company where we manufacture the engine ourselves, we have a company that we own in Germany that makes exhaust after-treatment systems and we have a company that is a 100 percent subsidy and so this will also be an 100 percent company owned by us. So all the way, the technology can go seamlessly from one end to the other. Second thing is we believe that my footing in the management philosophy that we have had an Ashok Leyland in turning around the businesses, we believe we can turn Hinduja Foundries around much faster. 95 percent of our castings comes from Hinduja Foundries. If something should happen to that, first person to suffer will be Ashok Leyland and obviously there are tax advantages also. Hence we said that while we can do the turnaround even if they were slightly away from us, it is easier to turn them around if they are in part and parcel of us, there is obviously synergy benefits and we can reduce cost and fix cost.
Q: Can we say that in the short-term it will impact your cash flows since you have to fund their losses?
A: No, they are almost reaching EBITDA positive already. So we have put in the team for the last six months. We will be accretive in less than two years and I don't think they will have a huge requirement of cash from us.
courtesy:CNBC TV18