Apollo LogiSolutions exhibited at the premier edition of India Logistics Expo 2016 which wrapped up on 21st May, successfully. The 3-day exhibition was held on 19-20-21 May at Bombay Exhibition Centre, Goregaon (E) in Mumbai.
With over 200 participants, the expo had over 75 exhibitors from across the logistics sector supplier spectrum, the exposition was attended by 2,865 visitors from various end user industries including the ever-growing e-commerce channels, which is on a constant lookout for state of the art logistics solutions. The Bombay Exhibition Centre glistened with eminent speakers from India, Malaysia, China, UAE, USA, Jordan, addressing the matters of the industry at the discussions and deliberations.
The India Supply Chain Summit and India Multimodal Logistics Summit were co-located alongside ILE, 2016.
ALS, an integrated logistics service provider partnered with India Logistics Expo in March as a VIP Partner in March 2016. Apart from coming on board as a collaborator, Apollo LogiSolutionsalso hosted the supply chain professionals during the three-day logistics exhibition and conference in Mumbai.
Apollo LogiSolutions is one of the robust business verticals of Apollo International Limited. Along with ALS, the Apollo Group has branched out also as, Distribution and Marketing of Tyres (Tyre Tech Global), International Business Products, Equipment and Projects (IBD) and Leather Garments and Accessories (Tag Fashions).
ALS, the logistics division of the group, is emerging as a leading integrated logistics solutions provider in India and worldwide. The joint venture with FIEGE operates under the name of Apollo Fiege Integrated Logictics Pvt. Ltd. In 2014, ALS entered into 60:40 joint venture with Ferrari, an Italy based logistics company having experience of over 50 years in secured logistics, to offer secured logistics solutions for high valued goods. In a short span of time, ALS with its international joint ventures with companies who have a strong presence globally, has been able to secure its  role as a leading player in the logistics sector providing comprehensive services. These ventures have opened the gates for ALS to expand internationally as well.
Also, in order to anchor its position as an integrated logistics service provider ALS, in 2013, acquired CLARION, a Chennai based Logistics Company and also formed a joint venture with LYCOS, a digital media firm, in 2015.
Recently, ALS acquired Wifin Technologies as part of its growth strategy to enhance IT capabilities and provide next generation technology based logistics solutions to our clients. The acquisition ensures that IT requirements of ALS group companies and clients, like software applications & maintenance for Logistics related services, mobile application development and consulting advice on IT matters etc. is provided in-house.
These acquisitions, partnerships, JVs, with an array of companies across the logistics industry have aided ALS in maintaining its edge over its competitors and look at the business from an end consumers' perspective.
The India Logistics Expo has always been a comprehensive logistics event. Along with having a highly qualified advisory board and strategic partners like CILT India, ISCEA (USA), SCLG (UAE), Frost & Sullivan, ILE's strategy has successfully met, year by year, all of its stakeholders' expectations.
Industry stalwarts were brought to the forefront to discuss the trends and issues in the industry. The panel discussion topics were such that even though they were of great interest to the Indian industry but they were not spoken about at prominent events in the country. In depth discussions took place on topics like Algorithmic Supply Chains, Bimodal Logistics, and Adaptive Responsive Networks. The panel discussions added to the interest of delegates.
A discussion was also held on Operational Implications of Omni channel Retailing. The session was chaired by Mr. APR, Godrej's Nature's Basket and the panel included Mr. BR Anand, VP & Business Lead –E Commerce, Apollo Lycos Netcommerce, Abhishek Rao, Head eFullfillment, Godrej Natures Basket, ecommerce division, Founder, Shipx. The deliberations took uncharted turns that discussed the biggest concerns in the industry, the core being meeting the Omni channel expectations, demands and also meeting it all with profits, including cost of returns.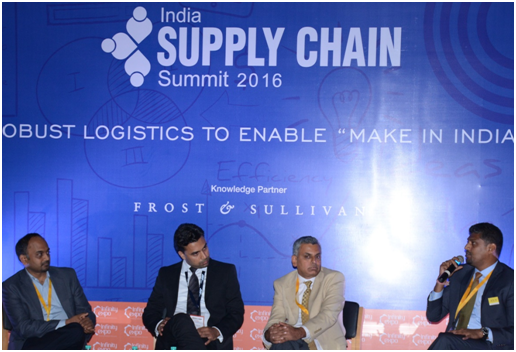 Mr. BR Anand, VP & Business Lead –E Commerce, Apollo Lycos Netcommerce, said, "Indian consumers today are moving with pace towards the omni channel way of life.  The value conscious Indian shopper believes that price is just a part of the larger value story. Convenience offered by the retailer also plays a major role in determining value.  It's no secret to retailers that consumers today expect more from their relationships with brands and retailers, they further expect to be rewarded for purchasing activity and, in turn, reward those brands that best address their needs with greater affinity. Loyalty management and relationship management with customers, if administered well, can help a company provide  better services and establish a loyal customer base as well."
Continuing, BR Anand said, "Indians buy online primarily because of convenience (65%), followed by price (31%). If retailers want to actualize the true potential of these strategies then they will have to complement their approach with an integrated relationship strategy and loyalty proposition, driven by data insights and facilitated by a cost-effective technology ecosystem. In the present scenario, omni channel agenda coupled with the pressures of delivering superior customer experience and in the face of aggressive competition will put the onus on developing an operating model which is strategically aligned to business goals."
He further added, "It's a credo in IT, content marketing, information management, marketing automation, retail, omni channel, to incorporate loyalty in the omni channel big picture. And it has to be done early enough, by the marketers.  It's a promise that has to be kept alive and grow through the entire customer lifecycle Customer Lifecycle Value as an end goal."
In September 2015, ALS and LYCOS, a digital media firm, formed a Joint Venture to tap on to the robust e commerce industry.
P.S.S Prasad, President, Apollo LogiSolutions, said, "Omni-channel retailing is slowly catching the imagination of Indian retailers, as more and more consumers are embracing digital technologies into their buying behavior. Retailers have ensured that there are no boundaries between channels – online & offline. Hence, ALS has teamed up LYCOS to get the offline retailers on the digital platform as well. LYCOS brings its global expertise in digital media, technology and marketing in setting up online presence for large brands globally; while Apollo will contribute its expertise in logistics, inventory management and reverse logistics."
Increasing mobile and internet penetration, m-commerce sales, advanced shipping and payment options, exciting discounts, are the major drivers of this unprecedented growth. The M&A deals and sky-rocket valuation of these e-commerce giants rising in last one year shows that the sector is heating up. The e-commerce companies are concentrating their efforts on increasing the penetration of their mobile apps for higher growth.
Most importantly the supply chain and logistics in e-commerce business are highly complex to manage in a vast country like India where infrastructure is not well-developed to reach every remote and rural area.
The partnership will help ALS evolve as an end to end logistics provider. ts expertise in logistics, inventory management and reverse logistics. ALS and LYCOS will provide an amalgamation of services to the offline retailer in terms of logistics and help in the tech space. The focus of this collaboration and the e commerce portal is to get all the offline retailers on the digital space and create for them another portal for their sale other than offline.
Encouraged by the response to the 2016 edition, Infinity Expo has announced the dates for the next edition to be held on 11-12-13 April, 2017 at Bombay Exhibition Center. The next edition is expected to be bigger and better taking forward the success stories and learnings from the current edition.