3636 moves and 5682 TEYs in a record time of 21 hrs 25 minute
APM Terminals Pipavav sets new port productivity benchmark for customers by successfully handling the largest container volume during APL Boston port call. A total of 3636 moves / 5682 TEUs was safely completed in a record time of 21 hrs 25 minutes surpassing the earlier record of 3207 moves / 4755 TEU in August 2010.  Equally important, a new berth productivity (BMPH) record was achieved at 162.20 moves per hour surpassing the earlier record of 151.93 mph in July 2014. Of the total, consignment, 3224 TEUs were moved by rail from the port to northern hinterland.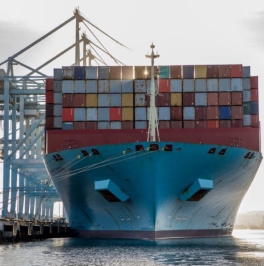 Mr. Keld Pedersen, Managing Director of APM Terminals Pipavav said "This is a proud moment for us at APM Terminals Pipavav. Operational efficiencies are at the core of our value proposition and we are gratified that we were able to surpass our own productivity benchmark. The quick evacuation of cargoes at port will enhance the efficiency for our customers. We continue to do our best to deliver operational productivity for all our customers."
This operational milestone took place on 8 November, 2017 when operating the vessel M.V. APL Boston of the CIXA service operated jointly by APL/CMA, OOCL, ZIM, Maersk& RCL. The weekly CIXA service connects Pipavav Port with Colombo, Singapore, Hong Kong, Shanghai, Ningbo, Xiamen&Chiwan.