APM Terminals Pipavav (Gujarat Pipavav Port Ltd), today announced the financial results for the quarter and six months ended September 30, 2017.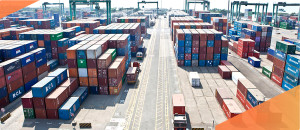 The company reported a net profit of INR 442 million for Q2FY18 as against INR 594 million in Q2FY17. Total Income for the quarter under consideration stood at INR 1,517 million as against INR 1,722 million in Q2FY17.
EBIDTA for the quarter was at INR 828 million and EBIDTA margin stood at 55%.
The Container cargo business for the quarter stood at 160 k TEUs, Bulk business was at   518 k MT and Liquid business was at appx. 276 k MT. RoRo business was appx. 19000 units for the quarter ended September 30th, 2017.
Based on the Company's profitability for the six months ended 30th September 2017, the Board of Directors have approved an Interim Dividend of Rs. 1.70 Per share for payment to the shareholders.
Commenting on the results, APM Terminals Pipavav, Managing Director, Mr. Keld Pedersen said "This has been a challenging quarter, however we continue to focus on growth."