Amazon has invested an additional Rs 1,350 crore (about $200 million) in its India unit this year, stepping on the pedal as it seeks to accelerate the momentum gained in the past 18 months.
The latest investment in Amazon Seller Services, disclosed in regulatory filings on May 31, takes the total capital infused into the main India unit since early 2015 to Rs 8,618 crore. The money came in March, a few weeks before India introduced discounting and vendor-related restrictions for online marketplaces.
The investment underscores Amazon India's determination to spare no expenses to fuel growth, outspending rivals that are having to slash budgets and focus on squeezing more revenue per customer. The money will now also be needed for additional compliance-related expenses, said experts.
Amazon this week will complete three years in India, in which time it has bitten off significant market share from domestic rivals who have been around longer.
The Seattle-headquartered company in March edged past Soft-Bank-backed Snapdeal in shipments, or volume market share, ET reported in April.
Flipkart , which began by selling books as an online retailer in 2007 and counts Tiger Global as its largest investor, is the market leader in India's online retail industry.
For Amazon, after losing ground to Alibaba in China, winning in India, the world's fastest-growing major economy, has become critical. The company in October said it expected India to overtake Japan, Germany and the United Kingdom to become its second-largest overseas market in a few years.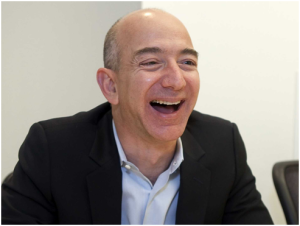 "We have done much more local market customization in India than we did in China," Amazon chief executive Jeff Bezos said on Tuesday at the Code/Media conference in California when asked what lessons the company had learnt from China.
Amazon began its India operations by allowing buyers to pay by cash, a novelty for it, and recently has leveraged neighborhood stores for delivery of goods.
It has introduced a slew of initiatives for merchants including Amazon-Tatkal, so small businesses can get online in under 60 minutes.
Amazon India has also built its own logistics network, which includes 21 delivery or fulfillment centers owned by it and another 50 owned by its sellers. But Bezos also said the Indian and Chinese markets are different, taking a dig at investors who have ploughed sizeable capital into Amazon's domestic competitors expecting similar successes as seen in China.
"I think some of the investors in India in the early days thought that India might be a replay of China and they have found out that it hasn't gone that way," Bezos said at the conference.Tiger Global and SoftBank have invested about $1billion each in Flipkart and Snapdeal, respectively.
Experts tracking online retail said it wasn't alien for Amazon to outspend rivals to dominate a market. Amazon in January made its largest single capital infusion into in its India unit at Rs 1,980 crore, a month after it sunk inRs 1,696 crore.
"This is only the tip of the iceberg," said KartikHosanagar, professor at The Wharton School of the University of Pennsylvania. "While Flipkart and Snapdeal are struggling toattract new capital, the strategic commitment from Jeff Bezos gives Amazon India a huge advantage."
Amazon India, however, has to deal with the new guidelines that bar any single merchant from accounting for more than 25% of the sales on an online marketplace and disallow any discounting led by the online platforms.
"The FDI policy has clear implications for Amazon's growth," said Devangshu Dutta, CEO of retail consultancy Third Eyesight. "It cannot depend on Cloudtail (Amazon's leading merchant) to develop its presence beyond 25% of projected revenues, so it does create a huge push for other merchants and brands.
"This will need significant spending on more manpower, more dispersed delivery infrastructure and higher marketing spends as well. We are committed to invest aggressively with a long-term horizon in India," a spokeswoman for Amazon India said in an email.
"We have witnessed tremendous growth in three years of our operations in India. In 2015, we grew by more than 250% (year-on-year, in terms of shipments) and by over 150% y-o-y in the first quarter of 2016 despite a larger base." For all this, however, Flipkart CEO Binny Bansal says he is not worried by Amazon's pace.
"The more we make quality products affordable and available, that's the only way to maintain our leadership," he said in an interview last week when asked if Flipkart was confident about remaining the market leader in 2017. "I am certain that we will remain the largest player by far."