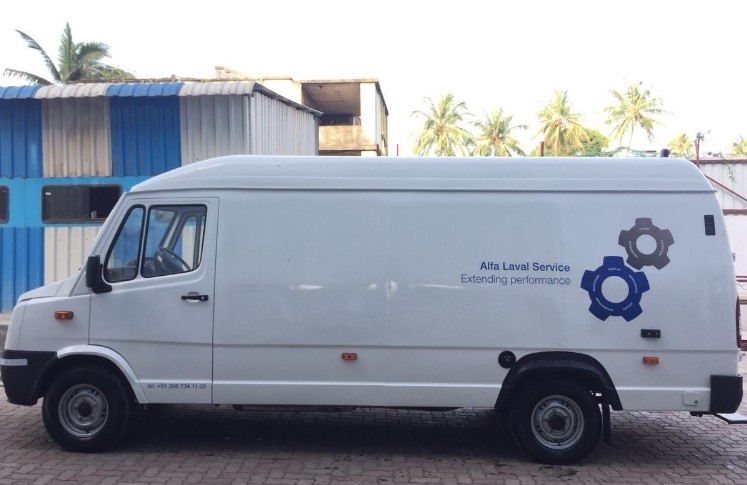 Alfa Laval India, over the years has established a significant customer base which operates under seasonal conditions. The company recently, at a customer event in Mangaluru on 14th September 2016, launched a fully-equipped service van providing – 'Service on Wheels' for its southern belt customers in Fishery, Mango and Vegetable oil industries, among others. This initiative is in line with the company's service vision – Alfa Laval India is our Customers' First and Preferred Choice for process equipment and service.
The customer-centric service initiative offers the complete service portfolio to customers at their doorstep, called 360-degree service. The aim is to pro-actively support customers during the critical seasonal business, by way of reaching them at their doorstep. This will secure genuine and quick service to the customers while ensuring high uptime of their equipment in the time of need. Trained service engineers with all essential tools and spares in a fully-equipped service van will be available on a call, and will reach customers promptly to ensure efficient service or spare part delivery.
'Service on Wheels' was kicked off at an event in Mangaluru with customers from multiple industries and was marked by a gathering of 50 customers. The service van was unveiled at the hands of Mr. Shaukath Shoury, Chairman, Indian Fish Meal and Fish Oil Exporters Association, and Mr. Lars Dithmer, Managing Director, Alfa Laval (India) Limited.
Mr. Lars Dithmer states "In Alfa Laval, we see 'closeness and ease of doing business' as two vital enablers for a fruitful and developing cooperation with our customers. Our commitment to India is long and strong; we are present with our own sales force and through distributors across the country, we engineer systems in India, for India, we 'Make in India' (we have done so since 1961), and we have three service centers in India, offering servicing and revamping, to secure lasting performance of our products. With 'Service on Wheels' we are now at the doorstep of our customers, with competence, tools and parts – even closer – even easier – absolutely committed."
The service van is equipped with state-of-the-art specialized tools and equipment for service of Alfa Laval products. The van is monitored by the latest technology of GPS system, tracking different features of the van along with its position at any given time.