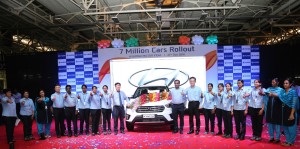 Targets to touch 10 million by 1st half of 2021
A top of the trim, white CRETA AT, which had the distinction of creating history in the HYUNDAI world by being the 7 millionth car, rolled off the production lines with MD, Mr. Y.K Koo and VP production, Mr. Ganesh Mani S. in the driver's seat at HYUNDAI MOTOR INDIA's state of the art facility in Sriperumpudur near Chennai recently.
With this, HMSI achieved the distinction of being the second best position amongst its overseas peers, only after China, in HYUNDAI MOTOR GROUP and the first auto manufacturer, in India to achieve this feat in a record time within 18 years of commercial operation, proving once again that HYUNDAI MOTOR INDIA can cross the 1 million mile stone, at an average of every 18 months. HMIL rolled out its first million car, a Santro, in 2006 just 8 years after commencement of commercial production in 1998. Thereafter, production picked up momentum, with the next million milestone being achieved within an average of 18 -19 months. The 5 millionth car was flagged off in October 2013 by HUYNDAI's brand ambassador Shahrukh Khan.
At an intimate event, congratulating employees on this very significant achievement, an exuberant Mr. Y.K Koo, Managing Director and CEO, Hyundai Motor India Limited said, "HMIL has always  set new benchmarks in terms of quality and  customer delight by introducing new products with new technology and design to the Indian market, demonstrating  superior manufacturing prowess.  Our 'Made in India' products have impressed global and Indian customers alike. We now have to move to realize our vision as announced during our 20th year of foundation on May 6th 2016, of being the Market Leader, Great place to work, Most loved and trusted brand with Modern premium brand essence to touch 10 million units within the first half of 2021. I thank each one for his commitment towards making HUYNDAI, the most loved and trusted brand in India." He further expressed on behalf of HYUNDAI,  his sincere appreciation and  gratitude  to the government of Tamil Nadu for their contribution in HYUNDAI's  success.
HMIL has held the top exporter position consistently for 12 years since 2004 with a volume of 24,64,723 to date, while being instrumental in making Chennai port vibrant. That apart, they have played a playing a pivotal role in the economic development of Sriperumpudur region by contributing to the exchequer and also generating employment opportunities, both directly & indirectly.